Acoustic Ceiling Fins for Noise Reduction in St. Louis, MO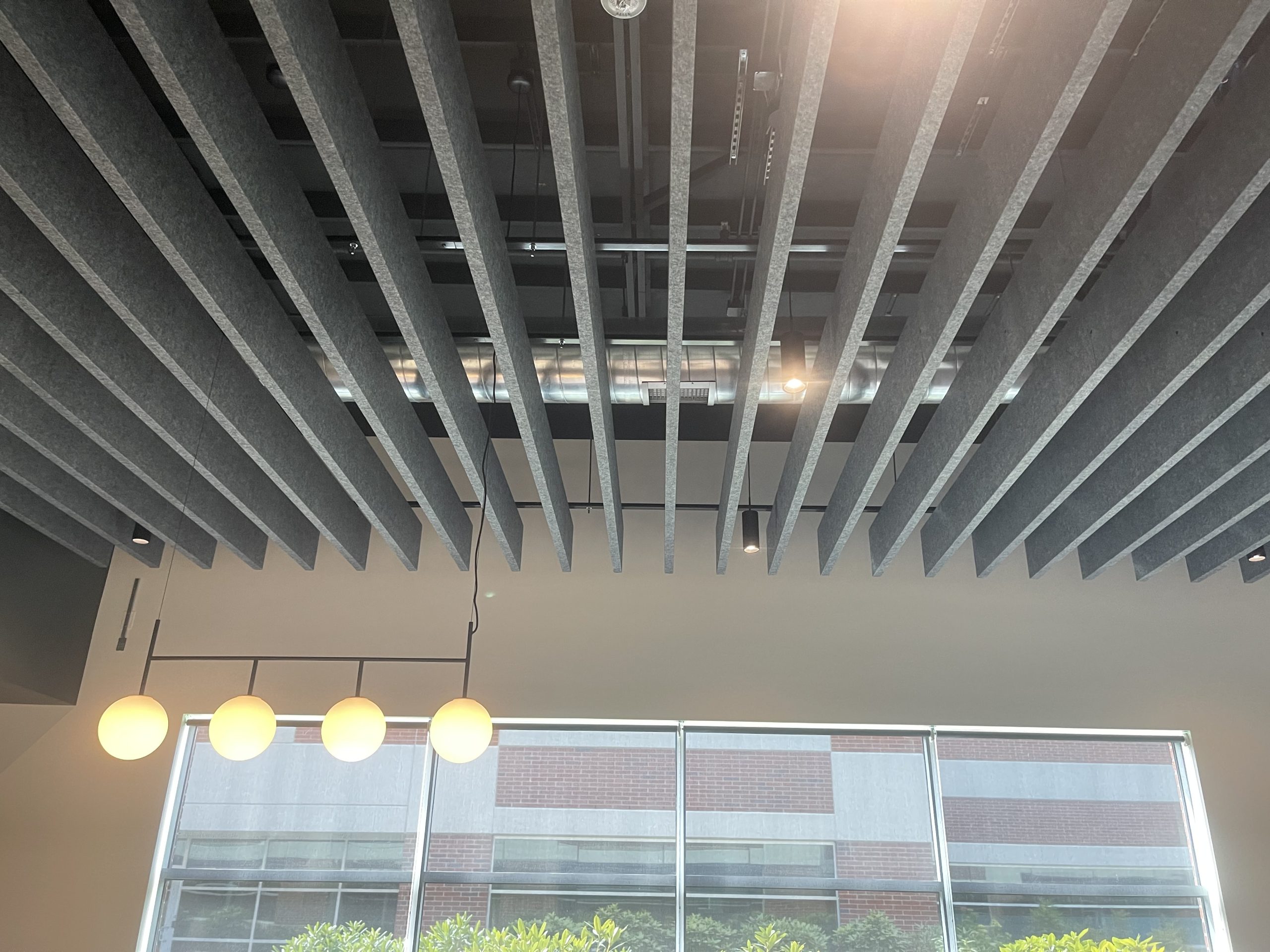 Hanging ceiling fins are needed in a large space where sound and communication are extremely important. Watching an orchestra perform without any panels to muffle the sound might be uncomfortable, especially if a mistake is made. It would be overwhelming to see a movie in a theatre without soft fabric to muffle some of the sound effects. Acoustic ceiling fins offer a sound-absorbing, visually pleasing choice for interior areas that are quieter, more comfortable, and more appealing.
Altispace vertical hanging ceiling fins have a high level of sound absorption thanks to their acoustic construction. Our frameless fin ceiling system is a unique product designed for quick and simple installation. The lowered noise is frequently noticeable by the residents right away.
What Makes Our Acoustic Ceiling Fins Unique in St. Louis?
Getting the right Acoustic Ceiling Fins is very important, this is why Altispace promises to deliver the best Acoustic ceiling products in St. Louis. Below are a few reasons why you should get your Acoustic Ceiling Fins from Altispace: 
Acoustics and Aesthetics in Harmony
When conventional acoustic grid and ceiling suspension systems may not be practical in difficult locations, our acoustic ceiling fins and baffles provide an alternative, acoustic option. To preserve the original design and enhance acoustics in ancient buildings, fins can be put around high windows, pillars, structural beams, and other barriers.
Our frameless ceiling fins have a crisp, minimalistic edge and a soft, delicate bevel that hang vertically to provide a visually pleasing design element. Ceiling Fin systems may also be utilized in open plenum ceiling designs to conceal the structure above it for a more modern, linear appearance.
Our Acoustic Ceiling Fins Can Improve Safety
Our acoustic ceiling fins supposedly promote safety, but how? You risk missing crucial safety information if you work in a noisy industrial setting and can't hear what your co-workers are saying. But that's only one instance. Even noise itself can be harmful. When it comes to safety, hanging our ceiling fins improves communication and helps decrease potentially damaging noise.
Additional Aesthetic Value
There are numerous different colours that may be chosen from our collection. We also offer customizability. In this manner, a sound fin may also boost brand recognition or even offer colourful accents to a space. Choose ceiling fins in hardly perceptible neutral tones if you like sound-absorbing materials that integrate into your décor. We can assist you in locating a solution that complements any design.
Added Advantages
Our Ceiling Fins are dimensionally stable and have a Fire Class A rating in addition to their acoustic, light reflection, and environmental performance. These ceiling fins have a modular design for simple installation.
Contact Altispace Today for More in St. Louis!
When you are ready to improve the sound quality and aesthetic value of your space in St. Louis, Altispace should be your first call. At Altispace, we do whatever we can to give our customers the best. For specialized help balancing acoustics and aesthetics on your upcoming project in St. Louis, get in touch with us.
Back