Acoustic Clouds with Lights Available at Altispace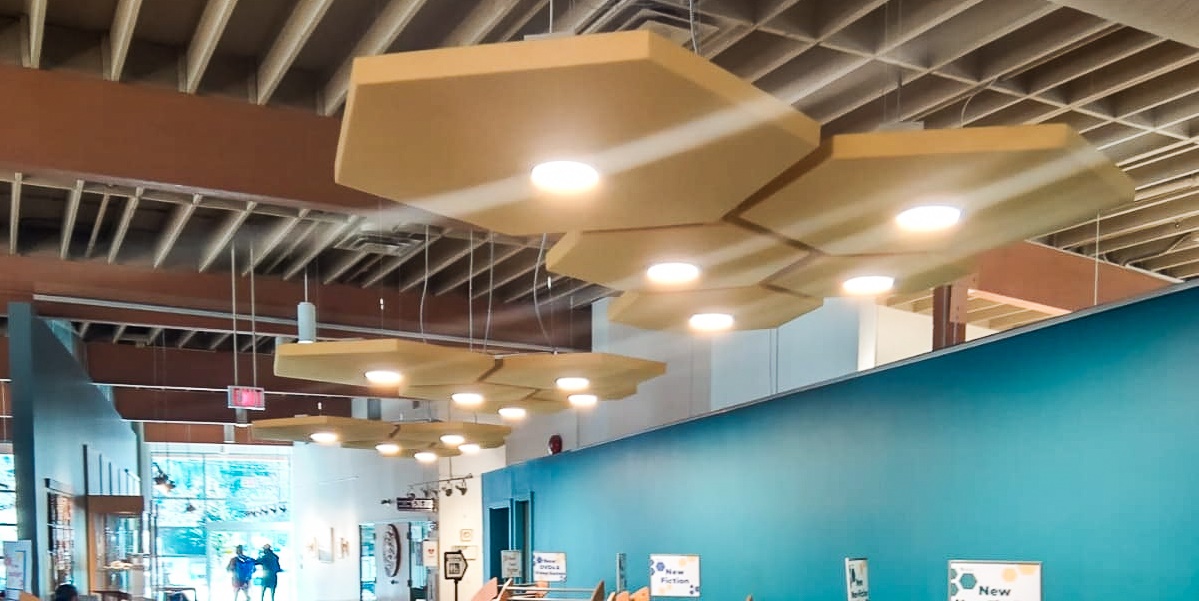 Acoustic or sound absorption panels are the best solution to let people experience pure and elegant music during recording sessions or playing different instruments. Also, this kind of sound absorption panel does not pollute the environment with higher noise levels. ALTISPACE uses a new-age technology and manufactures superior-quality acoustic panels for specifically commercial workspaces.
Acoustic panels are useful not only for musicians but also for people who live in areas with high noise levels. Homeowners can reduce outside noise pollution and live peacefully inside their apartments or office by installing acoustic panels.
On this webpage, you will learn about the evolution of acoustic clouds, or panels, in detail.
What are Sound Absorption Panels?
Excess noise can be a problem in different places. Corporate offices, music auditoriums, and studios are the perfect examples. The acoustic panels have a core made of a material like foam or mineral wool so that they absorb sound waves and act as a means of reverberation control in enclosed areas. When sound waves strike one of these acoustic panels, they quickly dissipate, killing the noise.
Typically sound absorption panels refer to the panels that absorb the sound waves and diffuse them to emit outside noise. Different panel manufacturers are available in the market, but ALTISPACE has its style of success. We have a wide range of ceilings and acoustic panels for large scale buildings.
 Acoustic Panel Application 
Acoustic panels have a wide range of applications. They can be installed in music recording studios, auditoriums, theatres, radio stations, television stations, entertainment venues, board rooms, conference rooms, or any other location where the level of sound needs to be controlled and managed.
Acoustic panels can be installed on a room's ceiling, walls, or flooring to make it soundproof. This means that no sound will be able to escape the room and vice versa. These panels are aesthetically designed to match the interior of any room where soundproofing is required.
Different Types of Acoustic Panels 
Whether you shop online or in a physical store, you will find a wide range of acoustic panels to complement any environment. Depending on the environment you want to create, you can select any material for your acoustic panel. Here are some examples of aesthetically pleasing acoustic panels:
Fabric-wrapped acoustic panels 
Fabric-wrapped acoustic panels are beneficial for sound absorption and noise level in various areas such as restaurants, studios, sound recording rooms, conference rooms, etc. These panels' fabrics can be cotton or any other sound-absorbing material.
Typically, recycled cotton products are used in rooms to reduce ambient sound and excessive reverb. They are available in a variety of colours and thicknesses.
Art acoustic panels 
Elegant artwork and images are featured on a fabric-wrapped acoustical panel in art acoustic panels. These panels improve the appearance of the room while also providing soundproofing.
The client can even request to have their preferred design printed on these panels. These acoustic panels can be customized with a company logo, custom photography, and other artwork.
Foam acoustic panels 
Foam acoustic panels are another great option for increasing sound absorption in any application. These are available in various colours, surface patterns, and thicknesses. Acoustic foam has the edge of being lightweight, making it a fibre-free alternative to other types of acoustic panels.
Indoor and Outdoor Acoustic panels 
Our indoor/outdoor acoustic panels are made of exterior-grade materials for maximum noise reduction. These panels reduce noise generated by mechanical equipment such as pumps and blowers on construction sites. These acoustic panels can be used to create noise barriers against air conditioners as well.
Metal acoustic panels
Metal acoustic panels with entrapped acoustic fill are frequently used for installation on walls in noisy environments such as gymnasiums, swimming pools, pump rooms, and other industrial work areas to absorb sound. These can be customized in size and colour to match the interior of the given space.
Wooden acoustic panels 
Wood is yet another useful material for acoustic panels. Wood veneer and timber provide the panels with quality and dependability. These wooden panels can be installed on walls and ceilings. Wooden acoustic panels reduce noise and add a pleasing aesthetic to the indoor environment.
Book your appointment with ALTISPACE to get the best Acoustic Panels 
If you are looking for budget-friendly sound absorption panels and other acoustic ceiling clouds for your commercial buildings, then you are at the right place. ALTISPACE is here to elevate your space and revamp your interior design to the next level. We have the best professionals available to help and assist you with genuine advice.
Back