Acoustic Fins Available at Altispace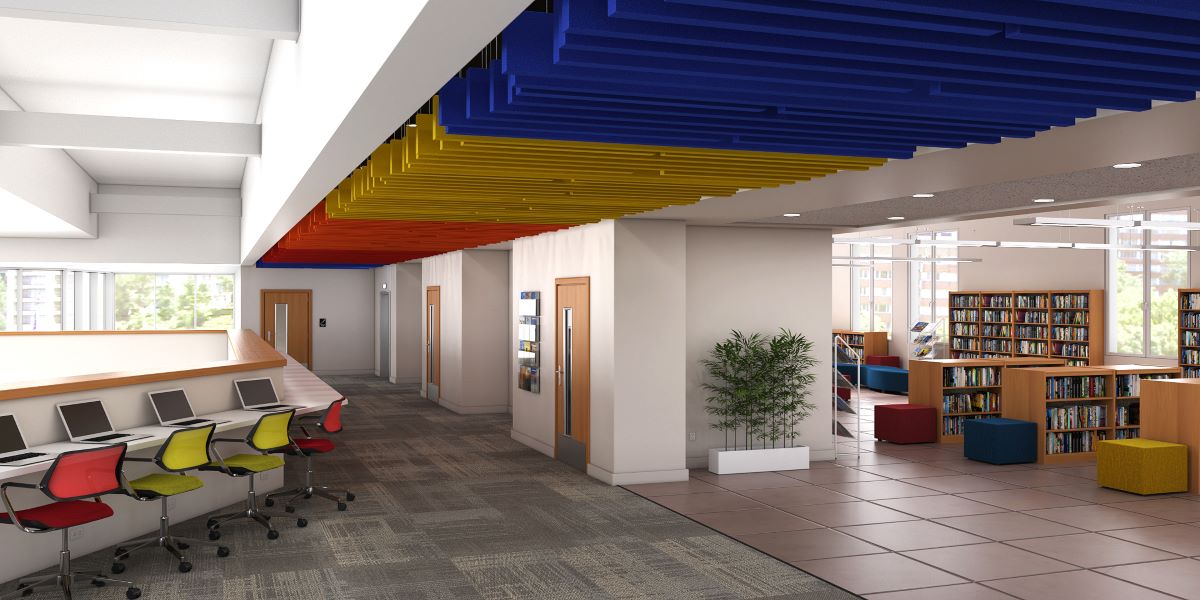 What Are Acoustic Fins? 
Typically, acoustic fins are panels best suited for retail and commercial usage, which are used to mitigate noise from the retail space and keep it practical.
Acoustic fins assist in reducing ambient noise in offices or any room. The fins are available in 84 standard sizes and 16 standard colors, allowing you to create the perfect solution for your project.
At Altispace, we want a seamless install experience, so we have designed our product with two different suspension options, an aircraft cable suspension system or a unistrut suspension system. Our products are easy to install in 6 steps and we provide all suspension materials necessary. This also means they can be installed to fit the designed space without compromise perfectly. If you have an idea for a custom design, let's work together to make it happen. We have an in-house design team dedicated to customization so that we can bring your vision to life.
Application Areas of Acoustic Fins 
Acoustic fins play a vital role in enhancing the overall noise of the commercial space: 
Best-suited for offices, education, retail and hospitality spaces and commercial interiors

Creates breakout zones in large open-plan areas 

Hides ceiling services
Core Features and Benefits:
Delivers excellent acoustic performance
Suitable for wall and ceiling applications

Supplied in kits including acoustic fins and fixing hardware

Can be subtle or a feature design for small or large spaces

Low VOC – beneficial for IEQ

UV stabilized and resistant to colour fade, it'll always look as good as the day it was installed

Not made from fibreglass or mineral fibre and does not contain formaldehyde, crystalline silica, or other carcinogens

Familiar with traditional fibrous absorbers

Cleanable and easily demountable

Includes high recycled content and is recyclable at the end of its life

Highly durable, so you're assured of long-term stability and performance
Why Use Acoustic Fins for Your Commercial Space? 
Altispace products provide an innovative acoustic system for today's ever-changing open-plan workspaces, retail, education, and hospitality environments. Utilizing our products allows designers to mix and match colours and styles to create endless configurations and enjoy quick, stress-free installations.
Why Choose Altispace? 
If you are looking for quality acoustic fins for your commercial space, then you are at the appropriate place, Altispace. We are a top-notch company composed of a group of forward-thinking individuals focused on perfecting the cloud space. Our teams quickly identified the need to enhance the aesthetics and performance of the cloud space for the architectural market. Key features we have pinpointed when developing our progressive product line for your designs involve:
Broad product range for the cloud space in your project

Flexibility in design and customization for unique design concepts

Cost-effective products due to efficient engineering and manufacturing processes

Made with eco-friendly materials and processes

Made with the best and lightweight panel construction

Made in North America
Furthermore, we manufacture high-quality products that offer a range of acoustic and laminate beams and shapes for your cloud space. Our customizable product line gives you the flexibility to create your unique design concepts quickly and efficiently, enhancing the aesthetics and performance of your cloud space. 
Made with our efficient engineering and manufacturing processes, we allow our cost-effective products to elevate your design's cloud space.
So why wait?  Get in touch with us today! 
Back