Architectural Ceiling Clouds Available at Altispace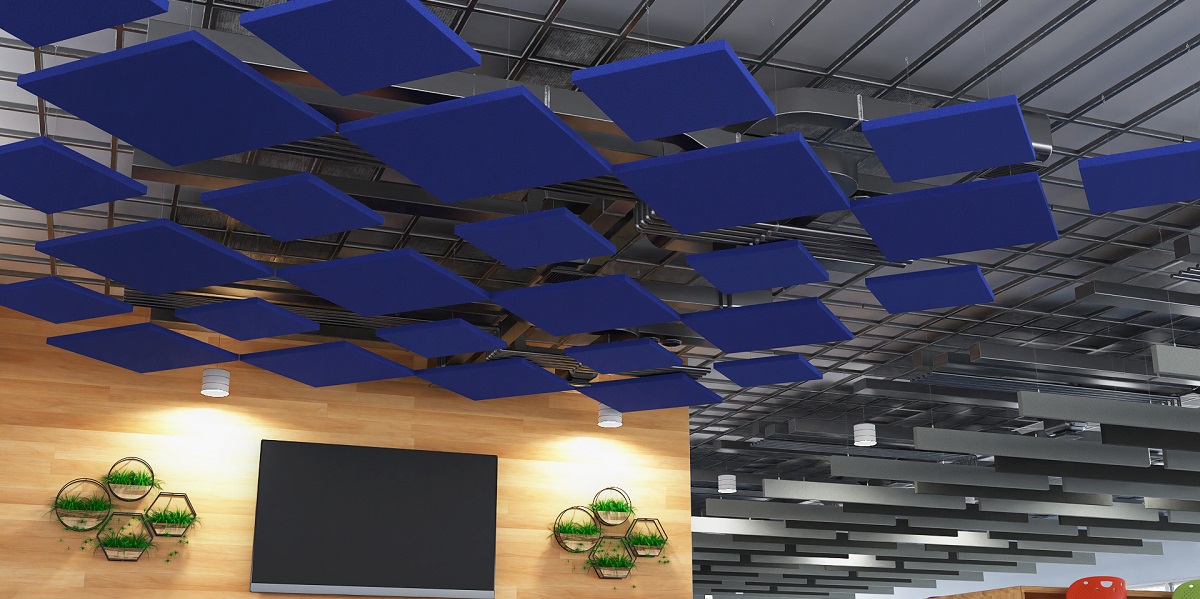 Nowadays, people try their best to make their rooms or corporate offices great. Therefore, it is vital to adapt or embed the new interior design technology, i.e., architectural ceiling clouds. Such ceilings provide a spatial pattern that gives your commercial buildings an elevated look and appearance. Moreover, ceiling clouds are best suited for large-scale auditoriums, indoor stadiums, concert halls, music studios and recording rooms. Plus, ceiling clouds can also be customized in size and shape to meet the needs of a specific project.
What are Architectural ceiling clouds? 
Architectural Ceiling Clouds are aimed to decrease reflected sound and distinguish space in open and large surroundings. Soft patterns and stylish lines hang horizontally from the ceiling, absorbing sound across their entire surface for unrivaled acoustic performance.
Walls are one of the most different and straightforward architectural elements that define a space. Rooms that flow into one another without visual barriers are popular in modern styles. Cloud ceilings are a subtle yet distinct method of distinguishing between aspects.
Different types of ceiling clouds
There are various architectural ceiling cloud designs, and the choice of ceiling size affects how flexible and open the ceiling is. When sound wave suppression is necessary, different baffle layouts have a more substantial impact on the acoustics, which is a crucial factor to consider.
But based on the required acoustic performance, ALTISPACE is always here to help you with its effective ceiling panel series. We have a team of professional interior designers who always give genuine advice after a proper inspection. All our ceiling products come with a variety of core specifications.
Key Features of Ceiling Clouds 
The perfect soundproofing choice for areas having limited wall space
Dual sound absorption
Define spaces and accentuate a feature area
Mix and match sizes and shapes
Custom configurations available
Suspend individually or in groups
Why are Acoustics Important for Architectural Design? 
Acoustic comfort in an office and public building improves our overall well-being. Communication, safety, health, learning, and productivity can all suffer due to poor acoustic performance. ALTISPACE offers a diverse range of high-performance acoustic ceiling clouds products that provide outstanding acoustic performance, comfort, and aesthetic appeal.
What Are the Application Areas of Architectural Ceiling Clouds? 
Architectural ceiling cloud panels have application areas, such as:
Auditoriums
Restaurants & Hotels
Lobby Areas
Reception Area
Multi-Purpose Halls
Commercial Spaces
Meeting Room
Call Centres
Assembly Area
Hospitals
Industrial Areas
Home Interiors
Dance and Music Studio
Soundproof Studio
Broadcast Stations
Soundproof Room
Home Soundproofing
Conference Room
Board Rooms
Home Theatre
Living Room
Core benefits of ceiling clouds installation
Proper ceiling cloud installation is ideal for a stunning and insulated home. It makes your commercial interior clear and beautiful. Every coin has two sides, just like a thing's positive and negative impacts. Let's talk about the positive sides of Ceiling clouds.
Ceiling panels are ideal for sound insulation. Commercial spaces can be noisy, especially if you have large team meetings regularly, corporate offices and other commercial spaces will benefit from the silence provided by ceiling tiles. They are designed to keep out noise, giving every member of the team comfort and peace in the building; the ability to dampen sound also improves the acoustics of your office.
Ceiling panels also improve the insulation of the offices, saving energy. A lot of heat is lost through the Ceiling and roof. Finding a way to limit this means that you will only need to use a little energy to keep the rooms warm.
Ceiling panels are a cheap option when it comes to setting up ceilings. They are fast and easy to install, making them even cheaper.
Why Choose ALTISPACE for Ceiling Clouds? 
At ALTISPACE, we manufacture top-notch quality products that offer you a wide range of acoustic, laminated beams and shapes for your commercial spaces, such as music concert halls and more. Plus, we have the best and most affordable ceiling product that revamps the look and appearance of your commercial buildings or auditoriums.
Each product comes supplied with complete suspension systems and instructions. When you receive your product, it is ready for easy installation! We are a dedicated team every step of the way – from estimating, project management and technical support.
Back