Architectural Ceilings in Calgary, AB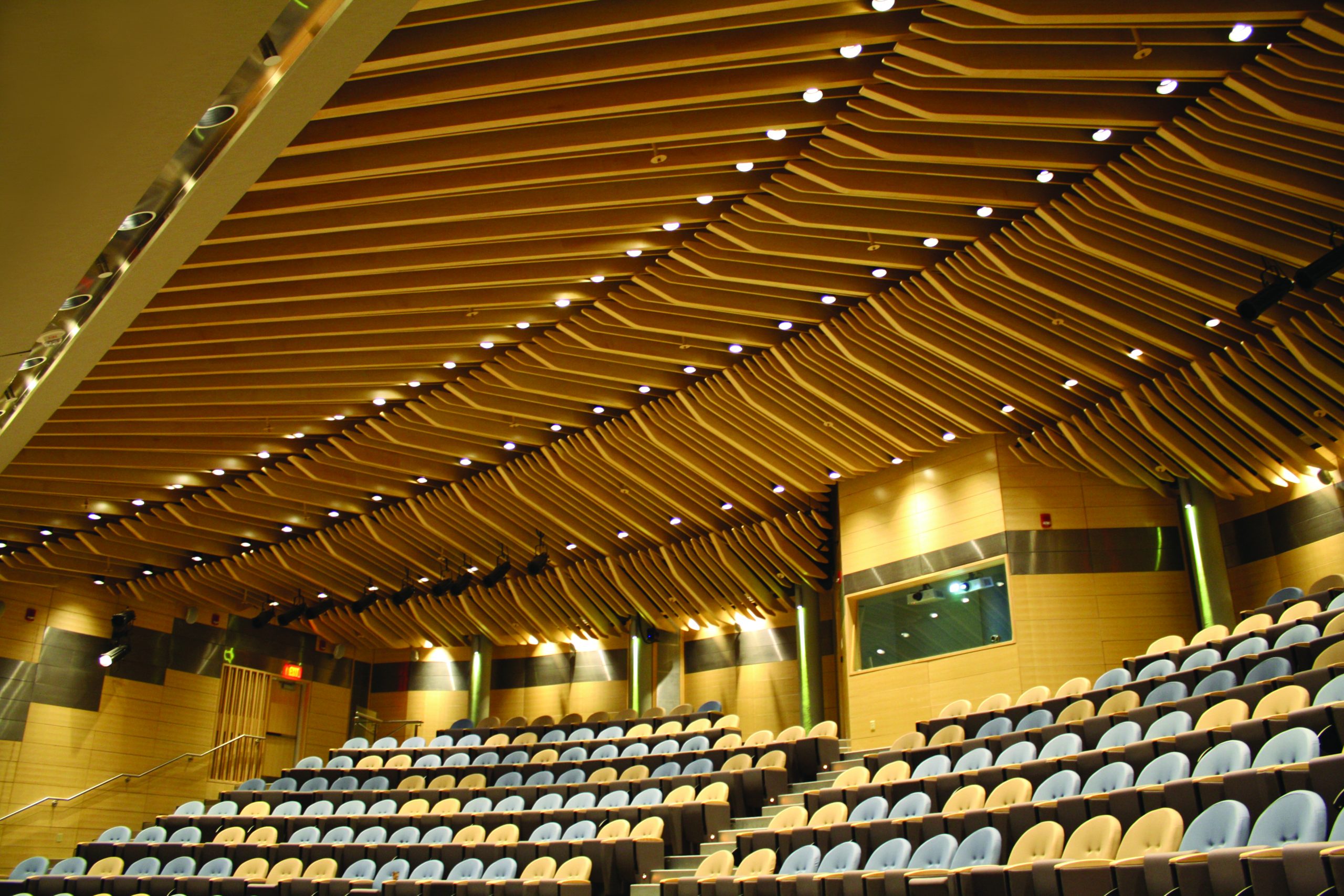 Designing a commercial workspace, restaurant, or cafeteria lounge is always a dream of every interior designer. The first step is to set a solid architecture. It's the main pillar of building your dream office or resto-bar. To get the job done, a lot of materials can be used such as lightweight beams, blades and, more importantly, acoustic ceilings. That's why Altispace is here to help. We are a leader in providing the best ceiling designs and panels for your corporate office, restaurant and more in Calgary, AB. 
To learn why architectural ceilings are important for office or commercial buildings and can add an elegant touch, continue reading.
Why Does an Architectural Ceiling Matter for a Commercial Office?
An architectural ceiling is important in making commercial workplace interiors unforgettable and eye-catching. These ceiling designs are specially designed to revamp the look and appearance of your commercial workplace. A survey has found that almost 60% of employees feel a decent ceiling design or decor gives them inner peace and motivates them to perform more attentively. 
An architectural ceiling design in every office on each floor for every employee matters. But remember one crucial thing: select the best and most appropriate ceiling materials. Along with that, the ceiling also plays an integral part in the expression of the aesthetics of an organization.
Altispace provides highly effective, lightweight and sustainable commercial workspace architectural designs in Calgary, AB.  
Ceiling Types:
An architectural ceiling can be designed with different styles in mind; a few of them are featured below: 
Acoustic ceilings are a good choice for sound management since they provide noise reduction and sound absorption capabilities. Because of this, ceilings, where Acoustic products are installed, have less reverberation and prevent echoes. 
For elegant workplace solutions, real wood gives refinement and aesthetic appeal. Wooden panels are a unique design alternative for office ceilings and are offered in standard and customizable dimensions and colours.
Different Ceiling Décor Ideas for Your Commercial Workspace in Calgary, AB
To make your office or workspace elegant, you can employ several types of Ceiling designs:
Wooden Crafted Ceiling Design 
Contemporary ceiling designs are being created by decorating with wood ceilings made of natural or industrial wood, which is now quite fashionable. The wood can make your space rustic or modern depending on the design, and provides a welcoming ambiance for employees and visitors alike, making this an amazing office ceiling design. 
In addition, various wood ceiling decorating styles may be used as panels or waves to enhance the appeal of the workplace. Using wood beams manufactured by Altispace, you can also incorporate LED lighting to enhance the lighting of your office.
Exposed ceiling design 
The natural office ceiling will have an industrial design aesthetic and provides maintenance access for elements like water pipes or electrical wires on the ceiling. Additionally, the workplace is made more open and airy by this striking and distinctive decorating, 
The plumbing and electrical wiring should be painted in a consistent colour, black or white to provide uniformity. This exposed ceiling style creates an industrial aesthetic which is a trending design style across commercial and residential spaces.
Office Ceiling Designs with Beams 
Beam ceiling designs create an extraordinary look and feel in a commercial space. The beams are made with high-quality materials that are simple to choose and install. Altispace has ample designs and colours available. 
Plus, this ceiling design creates the perfect solution for your project. Our Ceiling beams feature numerous specifications like lightweight panel technology and eco-friendly materials and processes. Such ceiling designs give an astonishing touch to your workspace, whether for a restaurant or a cafe.
Major Benefits of Using Ceiling Designs
Ceiling designs give your workspace an elegant touch and exactly what you want. A few of them are as follows:
Easier Access to Structural Components
Suspended ceiling panels conceal pipes and wires while facilitating simpler access to these supporting elements in the event they need to be updated or repaired. To make repairs, move the panels or tiles to one side, drop them back into place after they are finished, and repeat.
Brightened Interiors
By giving the sense of greater space or improving brightness, the design of ceiling tiles and panels may affect how useful the space is. For instance, white panels highly reflecting characteristics help brighten interior spaces.
Improved Hygiene
Suspended ceiling products can be easily cleaned with antimicrobial solutions to enhance hygiene and reduce mold and germs.
Ceilings play an important role in helping you maximize lighting, manage acoustics & reduce energy costs.  
Talk to Altispace Today to Get Started in Calgary, AB! 
Architectural Ceilings from Altispace in Calgary, AB aim to promote ceiling functionality. When aesthetically organized inside a room, the dimensional characteristics of the design, along with the sound-diffusing qualities of acoustic felt, enhance the aesthetics, overall sound quality, and acoustic performance. 
Get in touch with Altispace right now to order premium ceiling beams for your next project in Calgary, AB.
Back