Baffle Ceiling Lighting Available at Altispace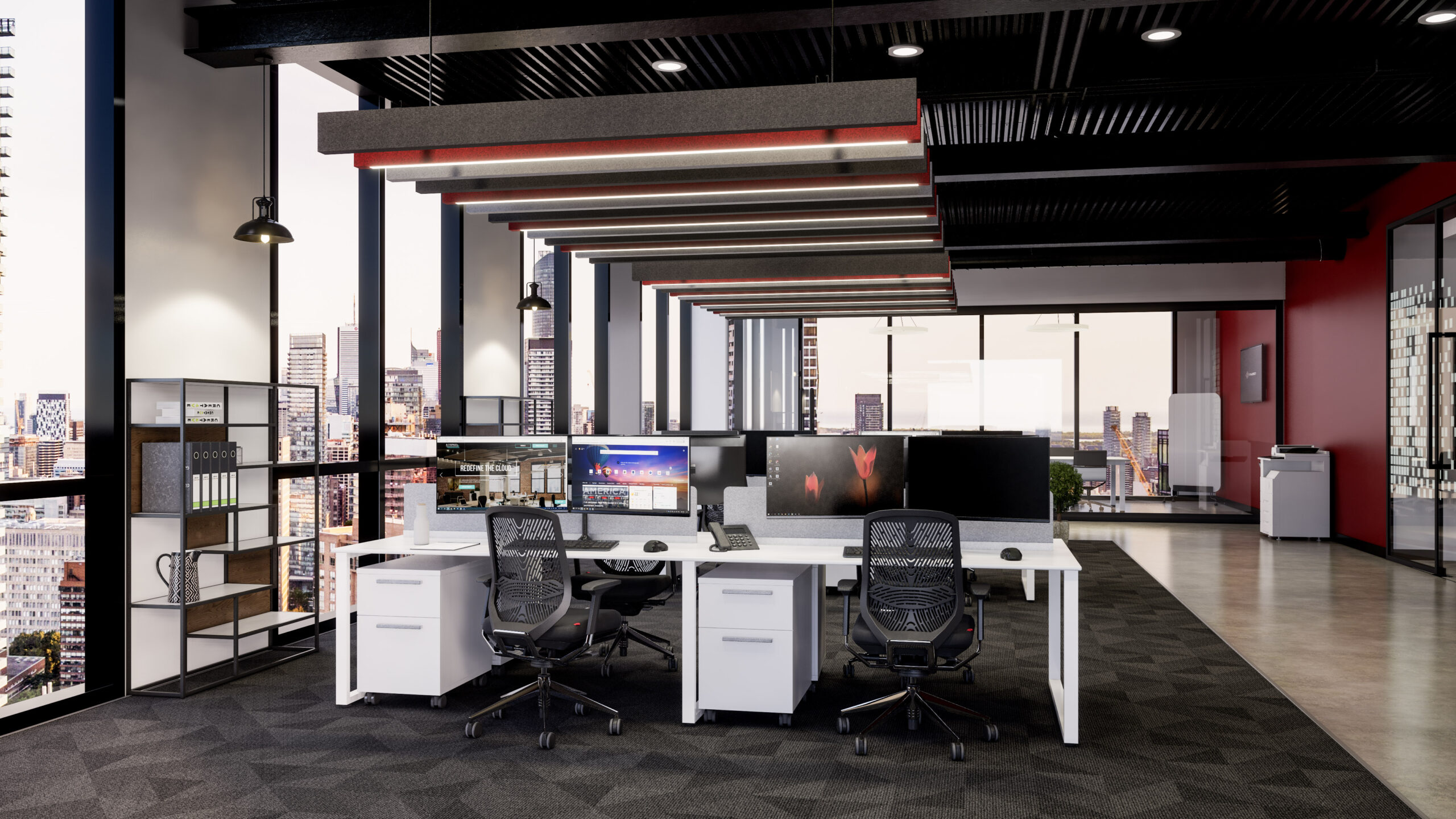 What is a Baffle Ceiling? 
Baffle ceiling lighting is great for adding atmosphere to a room. These open ceiling designs provide access to the plenum area and the concrete ceiling above. They are especially well-suited for remedial installation on concrete ceilings where a distinctive design or acoustic sound improvement is required. 
A sound baffle is a structure or device that dampens airborne sound intensity (level). Sound baffles are excellent for reducing noise pollution and reverberation. Acoustic baffles can improve the acoustics of concert halls, theatres, conference rooms, and other spaces where sound quality is critical.
A variety of baffle ceiling designs are available, and the openness of the ceiling depends on the choice of baffle size. Different baffle arrangements have a greater impact on the acoustics, an important consideration where sound reduction is required.
Different Variations in Baffle Ceiling 
There are several baffle ceiling designs to choose from. The baffles' size determines the ceiling's openness. Different baffle configurations have a greater impact on acoustics, which is an important consideration when sound reduction is required.
Baffles provide creative and acoustic flexibility for exposed soffit areas, making them ideal for new build and retrofit schemes. Baffle ceiling lights are designed to fit seamlessly into wood and metal ceiling baffles, providing high-quality lighting for various applications and design projects.
Our baffle ceiling lights are specifically designed to work with our acoustic baffle ceilings, providing various light level options depending on the project requirements.
Why Are Acoustics so important? 
The acoustic comfort in an office space, school or public building contributes to our well-being. Poor acoustic performance can affect health, communication, safety, productivity and learning. ALTISPACE offers you a range of high-performance acoustic ceiling products that deliver outstanding acoustic performance and comfort whilst creating an aesthetically pleasing environment.
Pros and Cons of Ceiling Baffle Lightning 
The advantages of baffle ceilings are numerous, but only some consider that they can be used in various settings. The benefits of baffle ceilings are listed below:
Noise reduction

Less distraction-more production

Reduce mistakes you make because you can hear and pay attention

Big, open spaces become more personable (such as busy restaurants)
It does not take much work to incorporate them into your space.
Do you want to create an atmosphere in your space but only want to partially renovate your space rather than rework everything from top to bottom? Baffle ceilings don't necessitate a total redesign of your space; they work with almost anything. Any existing ceiling could be used: T-bar, concrete slab, steel deck, or web joists.
Cost-effective 
One disadvantage of attempting the modern open ceiling look is that it must be visually appealing. Making what's hidden behind those old ceiling tiles presentable can be expensive. Baffle ceilings eliminate this cost; rather than spending a lot of money trying to make those pipes and wires look modern and spacious, baffles will have the same look but cost less.
Visually appealing 
As time passes, the world's reliance on visuals grows. You must be current for people to believe you have what they seek. Have you ever walked by a restaurant and thought, "I would never eat there," simply because you don't like how it looks inside? 
This applies to any location, not just restaurants. If you don't like how something looks, it may influence your decision to go inside or buy something from them. In today's world, constructing an appealing space says a lot about who you are and what you want to achieve.
Creating a vibe in the commercial space 
It is critical to create a 'feel' or 'vibe' within your space and ensure that it is positive. You don't want to be in a space devoid of an inviting atmosphere. 
Call ALTISPACE for your Baffle Ceiling Lighting System
Are you looking for an effective baffle ceiling lighting system for your commercial space? Get in touch with the professionals at ALTISPACE today. 
Back