Ceiling Acoustics Offered at Altispace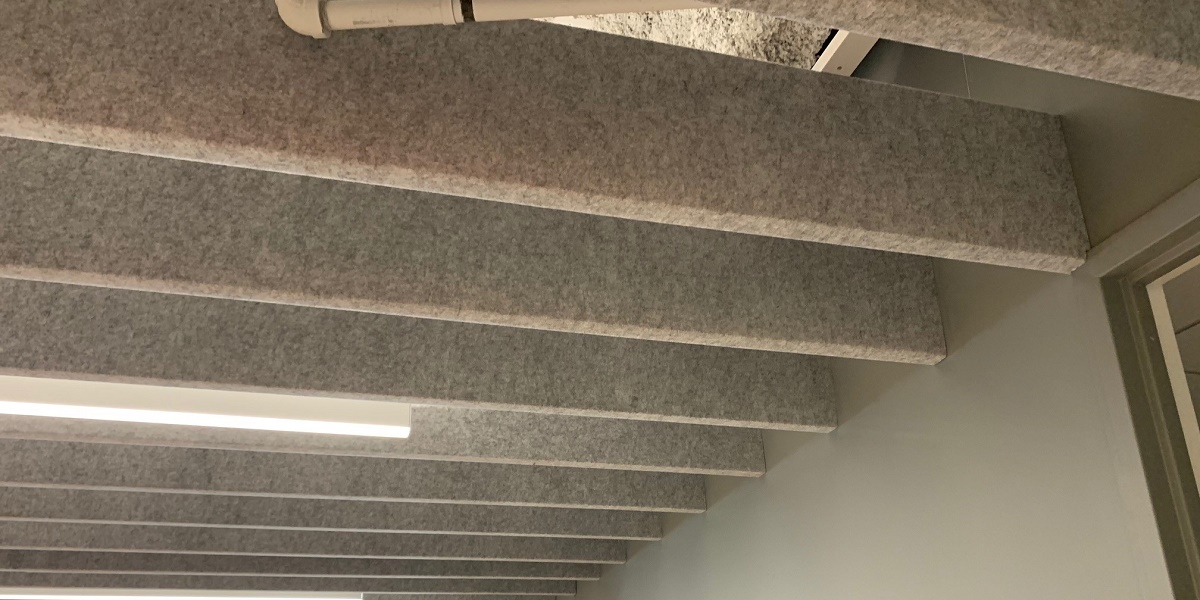 What is Ceiling Acoustics? 
The formal name for what is commonly known as a popcorn ceiling is ceiling acoustics. These ceiling tiles have been painted or sprayed to look extremely elegant. Because of their bright white presence, which can conceal deficiencies, they can be used in offices, boardrooms, and hallways. Their finishing is also very smooth and durable, and easy to clean.
They are widely used in construction today for aesthetic reasons, and technological advancements have enabled them to provide a wide range of benefits, such as improved acoustics and noise reduction.
They have metal strips hanging from the room's ceiling, and sound-absorbing substances have been embedded into each panel to make it soundproof.
Different types of Ceiling Acoustics 
Whether you are planning to upgrade your office space or install a new one, it is vital to know about various acoustic ceiling types:
Ceiling Acoustic Tiles 
Acoustic ceiling tiles are a type of ceiling tile that absorbs sound. Mineral fibres and cornstarch are combined to make these. White tiles are traditionally used for their brightness, but grey, blue, and beige tiles are becoming more popular as options.
Wood Fiber
Although this option is available in stores, it is not recommended due to its lack of elegance. Wood, on the other hand, is susceptible to moisture.
Genuine Tin Ceiling Tile 
These styles have a vintage feel to them and are pretty expensive. They add lustre to your establishment. Ceilings must be installed by a contractor with experience in this field. They must be cut with care and precision. These ceiling tiles can be made from copper, brass, and steel.
Cork Ceiling Tiles 
Cork ceiling tiles are a good option if you want a low-cost and ecologically friendly option. These tiles are available in waxed and unstained finishes.
Significant Benefits of Ceiling Acoustic Tiles 
These tiles are excellent at absorbing noise inside the space and may aid in reducing noisy environments and echoes. Some of the significant advantages of Ceiling Acoustics:
Sound Absorption 
They can absorb sound from the outside world. They also improve sound quality by reducing echo. Tiles usually hang from the ceiling, which means they can hide wires, pipes, and other unsightly necessities, allowing easy access when repairing or remodelling your office space.
Acoustic ceilings are made of mineral fibre, which is why they reduce noise. This fibre helps to absorb sound within a specific space and aids in the prevention of loud environments.
The audio rebounds from wall to wall and floor to roof in areas with hard surface flooring. Thus, making these ceilings ideal for spaces with hard surface flooring. They come in two different finishes: smooth and rough. You can select a tile with a printed design or a tile with a pattern in it.
Numerous various edge possibilities are available when selecting your tile. They have high reflectivity to light. Because it reflects light, it increases the brightness of the space while also saving you money on your power bill.
You may choose the kind of panel you want depending on the level of moisture resistance, reflectivity, and fire resistance. You may also customize superior acoustic ceilings to meet specific needs.
Enhancing the overall sound quality 
Acoustic ceilings not only soak up external noise but also improve the overall sound quality within a room.
Cost-effective  
You may believe that these are expensive items to purchase for your office space, but you are mistaken. Acoustic ceilings are inexpensive and provide the best value when you're looking to make updates to a space without full renovations.
Flexibility 
These ceilings are incredibly versatile and can be installed in virtually any room. Furthermore, you can change the tiles after you have installed them, making it simple to transition from one design to another.
Fluorescent lights fit easily into any square, and because the fixtures are for a single unit, you can remove or clean them if  they become dusty or dirty.
Light Reflexive
Ceiling acoustics are highly light reflective, reflecting light into the room. This adds to the room's beauty. It will also save you money on decorating and utilities. The panels are typically available in different reflectivity, humidity, and fire resistance levels, and you must select the one that appeals to you.
Schedule your visit to ALTISPACE today for Ceiling and Panelling Services 
Altispace manufactures high-quality ceiling tiles for your cloud space. Our customizable product line allows you to quickly and easily create unique design concepts while also improving the aesthetics and performance of your cloud space. Our premium products are created with efficient engineering and manufacturing processes, elevating your room acoustics.
So why wait? Book your appointment today!
Back