Ceiling Baffles Produced by Altispace in Chicago, IL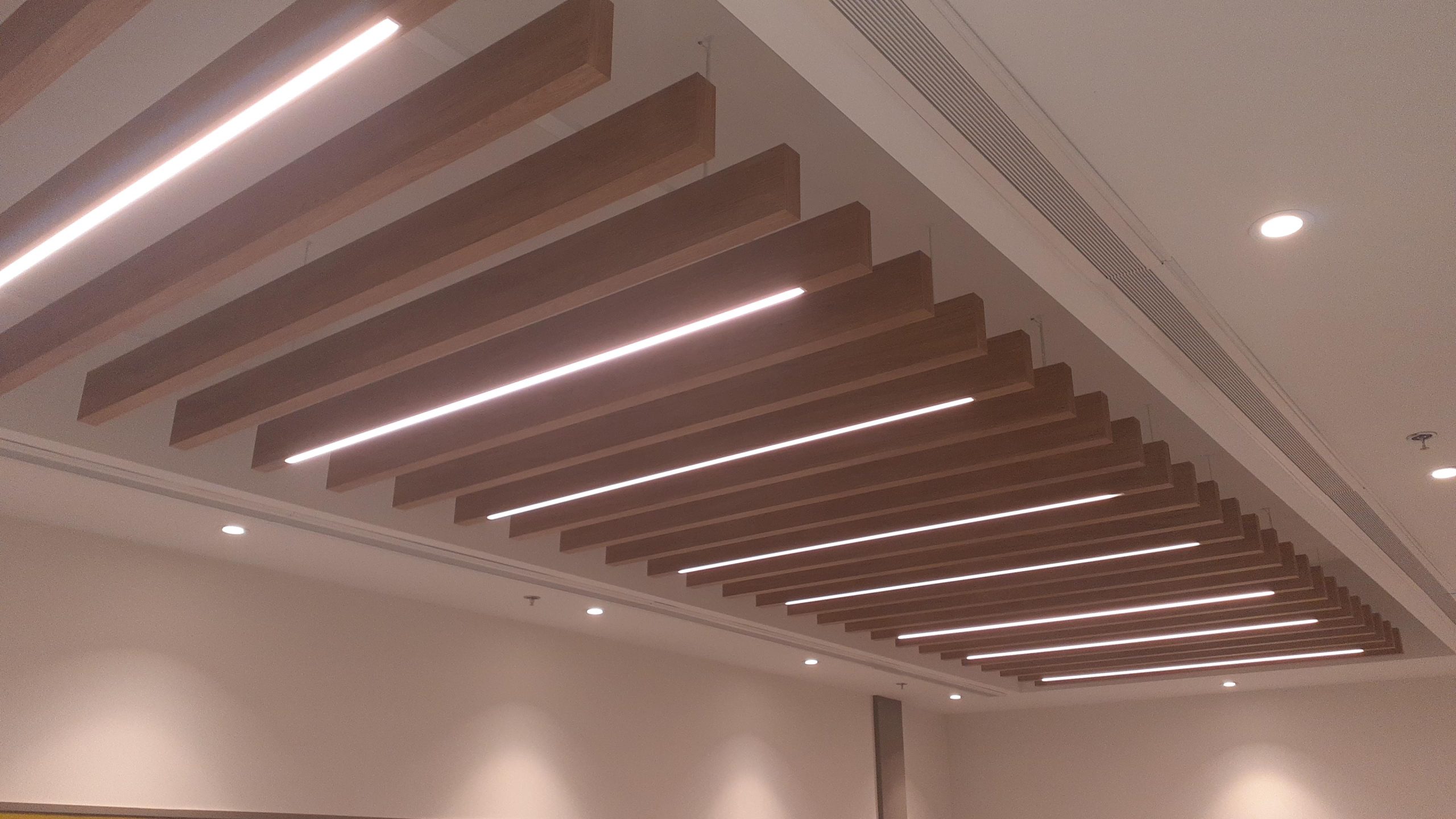 Ceiling Baffles provide a spatial pattern with a linear open ceiling from a design perspective. They come with installation instructions and mounting materials, provide quick access to the ceiling plenum for maintenance, and make it possible to add extra services like LED lights.
Ceiling Baffles can also be customized in terms of size and shape to meet the needs of a certain project.
What Are Ceiling Baffles?
Baffle ceilings are excellent for establishing a mood in a place. These open ceiling structures give a view of the concrete ceiling above and the plenum area below. They are especially well suited for corrective installation on concrete ceilings when a distinctive design or an acoustical sound enhancement is needed. A sound baffle is a structure or apparatus that lessens the volume of airborne sound. Sound barriers are excellent for reducing rebounding sound and noise pollution. Concert halls, theatres, conference rooms, and other locations where sound absorption is crucial can all benefit from baffle-improved acoustics.
Different Ceiling Baffles
There are many different baffled ceiling designs, and the choice of baffle size affects how open the ceiling is. When sound suppression is necessary, different baffle layouts have a stronger influence on the acoustics, which is a crucial factor to take into account.
Based on the acoustic performance needed, in Chicago Altispace ceiling baffles are offered in a broad variety of various specifications. Please look at our product page to view our different sizes and colours or speak with us about a customized design.
Benefits of Ceiling Baffle Installation with Altispace in Chicago
In an office, classroom, or public facility, the acoustics are conducive to our overall well-being. Poor acoustic performance can have an impact on learning, productivity, safety, communication, and health. High-performance acoustic ceiling baffles from Altispace in Chicago offer great acoustic performance, comfort, and an aesthetically beautiful setting.
No one really pauses to contemplate the fact that baffled ceilings may work for so many various areas, despite the fact that they have countless advantages. Here are five ways baffle ceilings can be of use to you.
To include them in your room, not much remodelling is necessary.
Do you want to add anything to your room that will add atmosphere but don't want to fully overhaul it from top to bottom? Baffled ceilings may be installed in almost any room; they don't require a total renovation. Any existing ceiling might be used, including T-bars, slabs of concrete, steel decks, and web joists.
It is cost-effective
One disadvantage of the contemporary open ceiling style is that it needs to be made to seem appealing. Making what's hidden under those ancient ceiling tiles attractive may be expensive. With ceiling baffles, you may avoid paying a lot of money to attempt to make the pipes and cables appear contemporary and airy while still getting the desired effect.
Provides a pleasant room with a pleasing appearance
The world is getting better and better at images. For people to think you have what they want, you need to appear modern. Have you ever passed a restaurant on the street, glanced inside, and said to yourself, "I would never dine there," just because you don't like the way it looks inside? This is applicable everywhere, not just in eateries. Your choice to enter a building or to make a purchase there may be influenced by how it appears. In today's environment, designing a beautiful place says a lot about who you are and what you are aiming to achieve.
Establishing a mood in the room
Making your place have a "feel" or "vibe," and making sure it is a good one, is crucial. You don't want to be encircled by people or be in a setting where time has stopped and there is no sign of life. In keeping with the previously described aesthetically pleasing feature, people feel happy when they are in an attractive setting. The surroundings you are in have a huge influence on how you feel. Why design a place where nobody enjoys being?
Give a unique section to draw attention to it.
Baffles can direct attention to a particular area that might otherwise be overlooked in a vast area, allowing it to stand out on its own rather than blending in with its surroundings. This could be a café inside of a huge supermarket, but all of a sudden it feels like a stand-alone "room," adding a touch of individuality.
Everyone has a different perspective of what they consider to be "beautiful." However, as society advances, individuals are drawn more and more to contemporary settings that foster joy, optimism, and development. Ceiling baffles provide your room with a contemporary feel that might improve mood, vision, and focus.
What Makes Our Baffle Ceiling Unique in Chicago, IL?
Altispace ceiling baffle systems come in a variety of sizes and colours. Along with these unique colours, other options include a variety of unique metallic hues, wood tones, and chrome finishes. On request, custom colour matching is available. The highest standard of manufacturing procedures, materials, equipment, and final goods are guaranteed by our commitment to quality.
Lower expenses over the course of the product's life cycle result from the improved longevity of Altispace products. Strong responsiveness to fire has also been achieved by all Altispace ceiling systems. Our project gallery's baffled ceilings will inspire you. Get in touch with Altispace in Chicago right now for further details.
Back