Ceiling Beams: Order with Altispace in Calgary, AB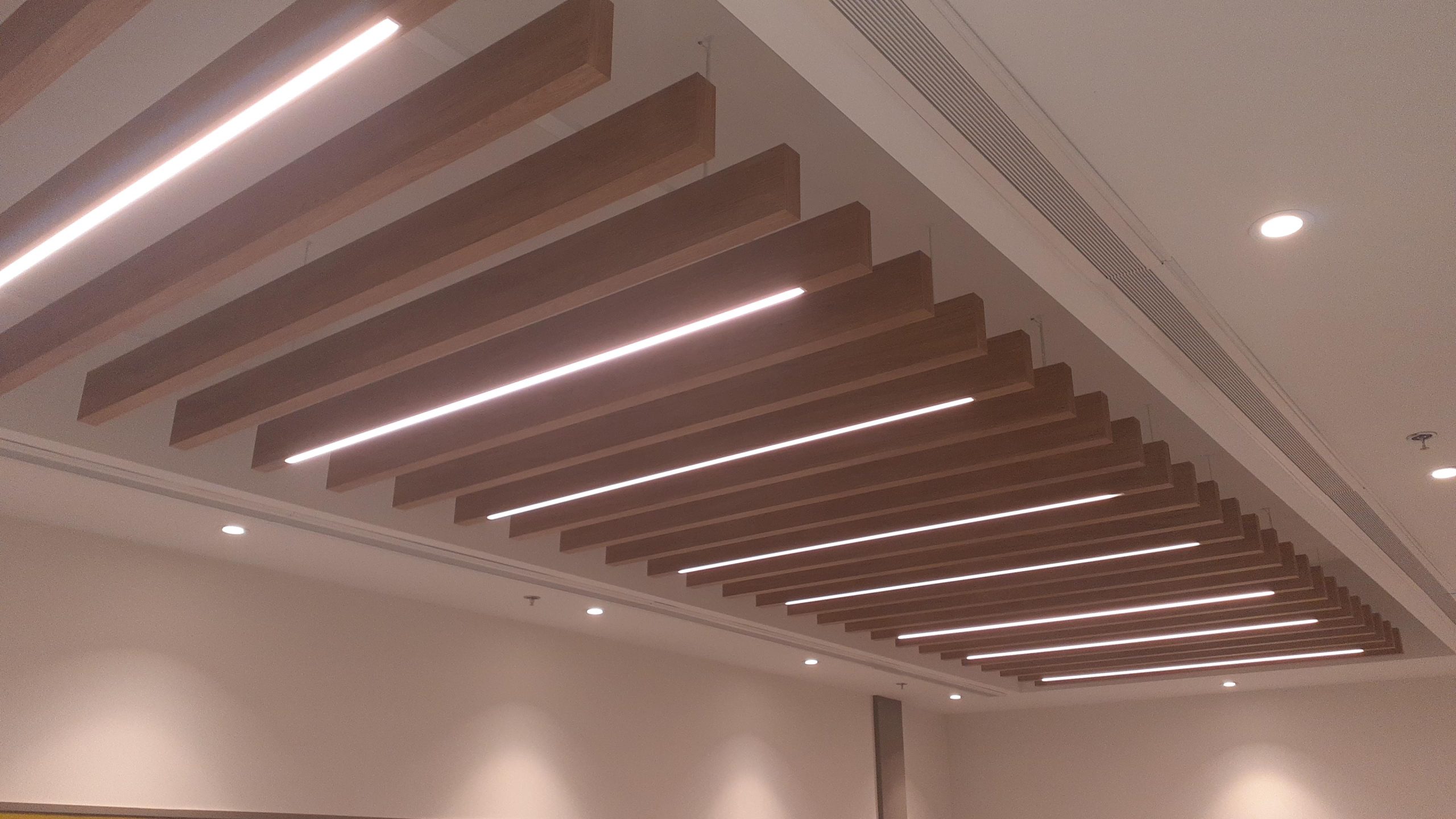 Ceiling Beams have a significant visual impact on the perceptions of a rooms size, height and functionality. The ceiling beams from Altispace can increase the aesthetic appeal of a space, divide an area into functional workspaces, provide a modern warm look to a dwelling, educational environment or industrial space. The Ceiling beams from Altispace are available in 72 standard sizes and 21 colour options. What's more, you can customize the beams to suit your environment. Keep on reading to understand how you can best use our ceiling beams to add beauty to your space.
How Can You Use Our Ceiling Beams to Design Your Space in Calgary?
 Whatever your style, properly installed ceiling beams will improve the look and feel of your area. Ceiling beams from Altispace can enhance the design of your cloud space for any setting, whether its an office space, lecture room, storefront, lobby or library. When thinking of incorporating beams into your design, consider these styles:
High Contrast
Choosing a ceiling beam with a size and colour that offers a high contrast compared to the colour of the ceiling and trim may be a striking option. Designs with strong contrasts will always capture the eye, and ceiling beams may be the ideal solution for such contrast.
Exposing Significantly
When your decor embraces industrial elements, you may get away with having an exposed ductwork and electrical system. A finish option here is to incorporate bright coloured furnishings to give that industrial approach with a pop of warm colour.
Modern Rustic
Warmth and texture can be added to any space by adding crossbeams and finished wood grain ceiling planks with a raw vibe. The room could feel more like a modern cottage than a log cabin because of the abundance of neutral hues, with the variety of textiles and surfaces.
Chic Simplicity
A room with a massively beamed wood ceiling, unfinished concrete walls, a stained concrete floor, and lots of natural light is the perfect setting for embracing the organic components of simple, elegant design. Straight architectural lines provide a wonderful understated feeling of harmony and calm.
Cottage Manner
Without compromising the architectural grandeur and openness of the high ceiling, decreasing and exposing certain ceiling beams in a room with vaulted ceilings would actually increase the impression of warmth and comfort in the room. This is a fantastic design for those whose spaces are decorated in a cozy and pleasant cottage manner.
Significance of Ceiling Beams
 A high ceiling may be made more interesting by the addition of custom beams from Altispace. A number of spaces can benefit from having an assortment of sizes of beams to add to the overall aesthetic of the space. Size and colour can have a big impact on the overall feel of the space.
Not only are the beams at Altispace perfect to help convey the mood and feel of the space, but they also offer options with acoustical benefits. Some of our beam products can help improve acoustics in large open spaces like board rooms, cafeterias, libraries and more.
Gone are the days of hefty wood beams being hoisted up and carefully secured in a space for design. Altispace offers a lightweight, economical solution that can offer the same appeal and aesthetic that is easier to order and install.
Advantages of Choosing Your Ceiling Beams With Altispace in Calgary
 Our ceiling beams are manufactured with exceptional precision and durability in addition to the benefits provided by the material itself. The following are some advantages we give our clients:
Low Initial Costs: At Altispace, we work hard to maintain low costs while delivering top-notch goods. For designers and architects wishing to add the aesthetic benefits of beams without the large expenditure, the outcome is a more economical upfront cost.
Attractive Products: Each of our beams and components is created with design and style in mind.
A variety of options: When we say customize, we mean customize. Altispace has a variety of options from different widths, lengths, finishes and colours.
Eco-Friendly: we take pride in the fact that our ceiling beam products are made with the environment in mind. Our beams are made using eco-friendly materials and practices.
Easy to Install: All products come with two hanging options that can be completed by any general installation contractor
Lead Times: Keep your project on schedule with our best in class lead times.
Regardless of the product you may be looking for, ceiling beams or other in Calgary, contact Altispace today to learn more about our product offerings and lead times to get your next project started.
Back