Ceiling Beams with Lights in New York, NY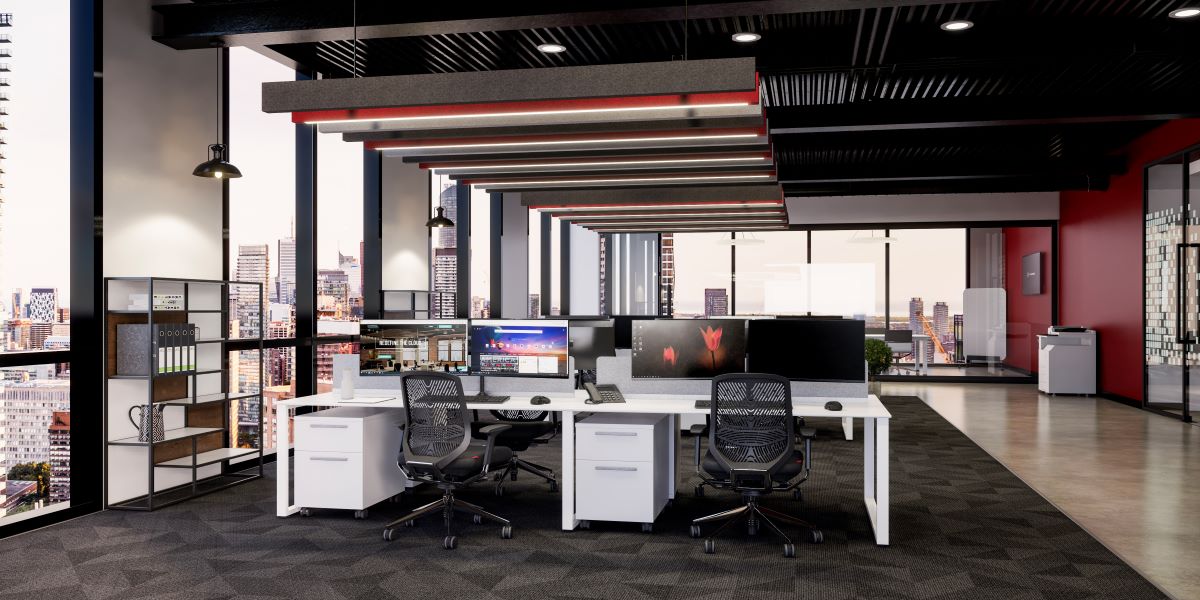 With their natural lines and timeless appeal, ceiling beams add an extra touch of coziness to any room. They are an intriguing architectural detail that may give a room a completely one-of-a-kind feeling. However, there may be instances when you question if your particular design aesthetic would work in a room with ceiling beams.
Imagine you are looking to upgrade your office space and you're looking for ways to add flair instead of using tired drop ceiling tiles. However, you are unsure if the ceiling beams would ruin the look of your entire décor. Or perhaps you were hired to design a new hotel but are unsure about the ceiling style for the lobby.
Fortunately, ceiling beams come in a wide range of styles and varieties, so if you like the way they appear, you may discover the perfect fit. Here are some examples of various ceiling beam types and the styles to which they have been matched.
Ceiling Beams In New York, NY for Every Space
At Altispace, we've created beams that are fit to be installed in many different configurations. Whether you are looking to create a wood slat style ceiling in a large space or are just looking to increase the aesthetic appeal of your reception area, utilizing beams can add the effect that you are looking for.
Wood Slat Style Beams
Install our beams into a wood slat style configuration. Creating a slat style accent wall or wood ceiling is a big trend that retains visual appeal for years to come. This integration of our product into your design will provide a minimalistic yet modern feel to any cloud space.
Hanging Beams
Hang our beams from the ceiling of your office space. By utilizing our aircraft cable suspension hardware you can create a visually appealing entryway to any office. Alternatively utilize hanging beams as a source of lighting in your office meeting rooms.
Designating Spaces with Beams
If you are looking for a unique way to separate your space without constructing walls that compromise natural light consider using our beams. Installing ceiling beams with integrated lighting allows you to naturally cast light onto a specific area helping you designate it as a separate space creating a confined space.
Decorate Your Space With Ceiling Beams In New York, NY
Ceilings Beams provide a space with architectural interest. Additionally, our beams are constructed to last a long time providing you with aesthetic appeal and minimal maintenance.
One way to give a space a bolder appearance is to paint the walls a colour that contrasts with the ceiling. Or, for a more understated impression, work with the team at Altispace to create custom beams that align with your design preferences. Our beams come in a variety of laminates, veneers, or can be manufactured to be paint grade. Enhance the beauty of your area by choosing illuminated beams or another cloud space solution from the Altispace catalogue.
What Are Illuminated Beams?
Along with our conventional ceiling beams, illuminated ceiling beams are a unique design option; they are both an architectural feature that enables rooms to have higher ceilings and a decorative component that adds charm by illuminating the area. Unlike ordinary ceiling beams, the illuminated ceiling beams Altispace offers are compact, fashionable, and have integrated led lighting
At Altispace, our ceiling beams with lights are delivered as one product that can be customized specifically to your project and interior design needs. By visiting our product page on the website you can design the product you need down to the size and colour. All orders are made custom with industry leading lead times. So you only need to rely on a single product to be ordered to suit all your design needs, and expect it to be delivered on time.
Illuminated beams are a great option if you are looking for a way to integrate light into your office but are struggling to find commercial lighting fixtures that are modern enough to suit your space.
What Makes Our Illuminated Beams Exceptional?
Altispace's illuminated beams may enhance the architectural design of any space. You will want a budget friendly and efficient option if you don't have an endless budget or an infinite amount of time for your design job. Our ceiling beams that are illuminated come in handy in this situation.
For more information on transforming your house with led integrated beams from Altispace, keep reading.
Our Illuminated Ceiling Beams are Lightweight
While solid wood beams provide a unique appearance, they can be incredibly heavy.
It becomes a labour-intensive undertaking when you take into account the length of the beam and the weight of the wood. The cumbersome wooden beams will be difficult to install and will add weight to your ceiling. Your ceiling can be so heavily weighed down by the beam that it needs a second structural beam to support it.
For this reason, solid wood beams become exceptionally expensive to source and install. Additionally, the installation is rather intrusive because you might need to knock down some walls in order to place the support beams.
Our illuminated ceiling beams are a fantastic substitute that cost  much less and are  easy to install. Because the beams have only a wood frame and boast a honeycomb core, they are much lighter than their solid counterparts. It's possible to get the same appearance and feel while keeping expenses low and decreasing the installation time significantly.
Visually Appealing
Our illuminated ceiling beams are a wonderful addition to your commercial cloud space; especially if you are trying to create a warm, serene atmosphere.
Illuminated ceiling beams are a terrific example of a small architectural element that can brighten up a space without making it appear busy or extravagant.
Consistency is added to the design
Each ceiling beam should have some diversity and contrast, but too much might make the space appear disjointed.
A natural wood beam's appearance is difficult to regulate because there is only so much that can be done to cure the wood. The similar effect will be provided by our illuminated ceiling beam, but with more uniformity. If you want your space to look a little more unified, consistency is crucial.
Features of Our Ceiling Beams With Lights In New York, NY
It is simple to configure and set up our lit beams. With a choice of 21 standard colours and 36 standard sizes, you may design the ideal solution for your project. Customize it if you have a certain size or colour need! We can assist you in creating your own lit beams by using the product picker on our website to let us know what colour or size you are searching for. Some of our ceiling beam features include:
Lightweight panel technology and environmentally friendly materials and construction procedures
Ability to add your preferred laminate or veneer to create a unique lit beam
Installation is simple with our provided hardware and instructions
Your choice between bright daylight or warm daylight LED lights
Summary
Whether you are searching for ceiling beams with lights for one or many projects, get in touch with Altispace today. For your cloud space, Altispace produces high-quality solutions with a variety of laminate and acoustical beams and shapes.
Our selection of adaptable products provides you the freedom to rapidly and effectively develop your own distinctive design concepts while also boosting the appearance and functionality of your cloud environment. Our affordable solutions, which are made using our effective engineering and manufacturing techniques, will help you design the ideal cloud space for your team
Contact the team at Altispace if you are looking to design a custom solution for your cloud space. Our team is available to help you answer any questions or complete your design specifications.
Back