Ceiling Blades Available at Altispace in Boston, MA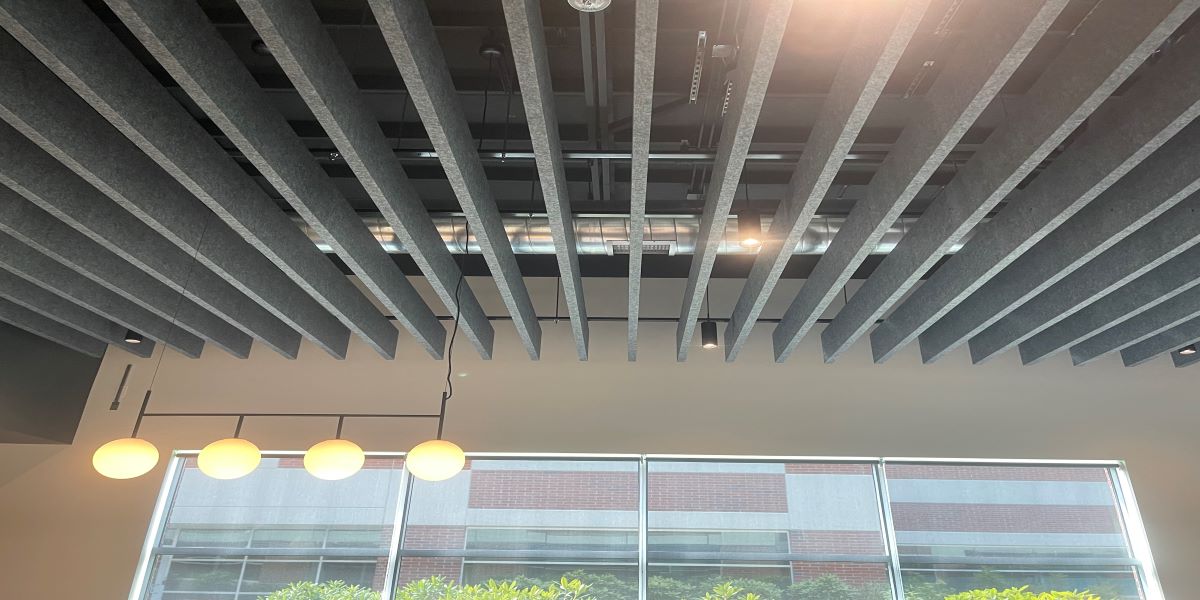 You always aspire to be able to hear the mediator's speech, the musician's music, or the professor's lecture at a good level of understanding, without suffering from poor acoustics, when you enter a conference room, auditorium, or university classroom.
We frequently are unaware of how crucial it is to pay attention to the levels of noise pollution around us or how much it can harm our psychophysical well-being. The acoustic criteria must be followed in the public areas we use on a daily basis, such as workplaces and other sorts of recreation facilities. We expect these spaces to fulfil more criteria than just having a nice acoustic environment.
In reality, our appearance has gotten more and more demanding, to the point that we expect to find a high level of aesthetic care and sophistication everywhere we go. Ceiling Blades, which have a high acoustic absorption coefficient and an appealing, sophisticated, modern design, satisfy both of these requirements.
The panels are carefully processed, and the best soundproof materials are chosen, adding value to the surfaces they are put to as well as giving them a highly attractive appearance and a striking aesthetic effect.
What Are Ceiling Blades?
The use of Ceiling Blades is a fantastic technique to improve the acoustics of a space without sacrificing style. The blades may be found in a wide range of common sizes and colours to suit most requirements. They are simple to install, and they give your ceiling a design element and colour.
Lightweight, recycled PET felt with a Class A fire rating is used to make acoustical blades. They are available in a range of hues and are through-colored, meaning that both of their sides and all of their edges are the same hue.
Several Mounting Alternatives – Run metal bars through to connect the blades together in a large group using simple wires and hooks to attach them to the deck above. For acoustical treatment that won't break the budget, Ceiling Blades are the ideal option for conference rooms, eateries, open workplaces, and pretty much any other area with an open ceiling!
Ceiling Blades are made to manage the reverberation time in spaces for group usage, such as meeting and conference rooms, restaurants, auditoriums, and university classrooms. They are intended to improve the acoustic performance of interior architectural environments. Ceiling Blades have a perforated surface on the back and an exposed slatted surface.
The features that distinguish the various varieties of ceiling blades, both from an aesthetic and a technical standpoint, include the varied hole sizes, the distance between holes, as well as the varying percentages of perforated surface. The panel that best satisfies the customer's technical and architectural design requirements is made available to them, allowing for both great acoustic correction and a high level of aesthetics.
Ceiling Blades for Exposed Structure Spaces
Ceiling Blades are a new addition to Altispace's line of acoustical products for environments with exposed structural elements. The newest model in the Altispace range has a high-end linear visual and superior sound absorption. The lengths of the blades can start at 6" and go all the way to 96", heights start at 4" and can go to 12" and thickness starts at 1.5". These are available in 17 common colours. Additionally offered are custom colours.
The blades are perfectly suited for improving the acoustics and aesthetics of corporate, educational, and retail areas in both new construction and retrofit applications. They may dramatically reduce background noise and reverberation duration when installed in reverberant spaces, improving speech understanding. The items are completely pre-assembled, and each panel's top has metal hanging clips embedded for simple installation from a typical suspension system.
Altispace Ceiling Blades In Boston, MA
Altispace Ceiling Blades may help you define your interior space because of their exceptional sound absorption and sleek, interesting design, which makes them the perfect choice for loud settings.
Gains from Altispace Ceiling Blades
High acoustic performance and contemporary linear visual
Low-cost and simple to install
Easy stand-alone installation
Simple mechanical service integration
On request, custom sizes and colours
Long-lasting, highly reflecting surface (traffic white shade)
With the use of Altispace Ceiling Blades, background noise levels, reverberation duration, and voice clarity may all be considerably reduced. They offer absorbing action on all surfaces. Both specifying and installing our lighted acoustic blades are straightforward tasks. With a choice of 21 standard colours and 36 standard sizes, you may design the ideal solution for your project.
Customize it if you have a certain size or colour need! We can assist you in creating your own acoustic ceiling blades if you use our product picker on our website to let us know what colour or size you are searching for. Our customizable product range allows you the freedom to rapidly and efficiently develop your own distinctive design concepts. Get in touch with us today for more information on our ceiling blade products in Boston, MA.
Back