Felt Ceiling Available at Altispace in Ottawa, ON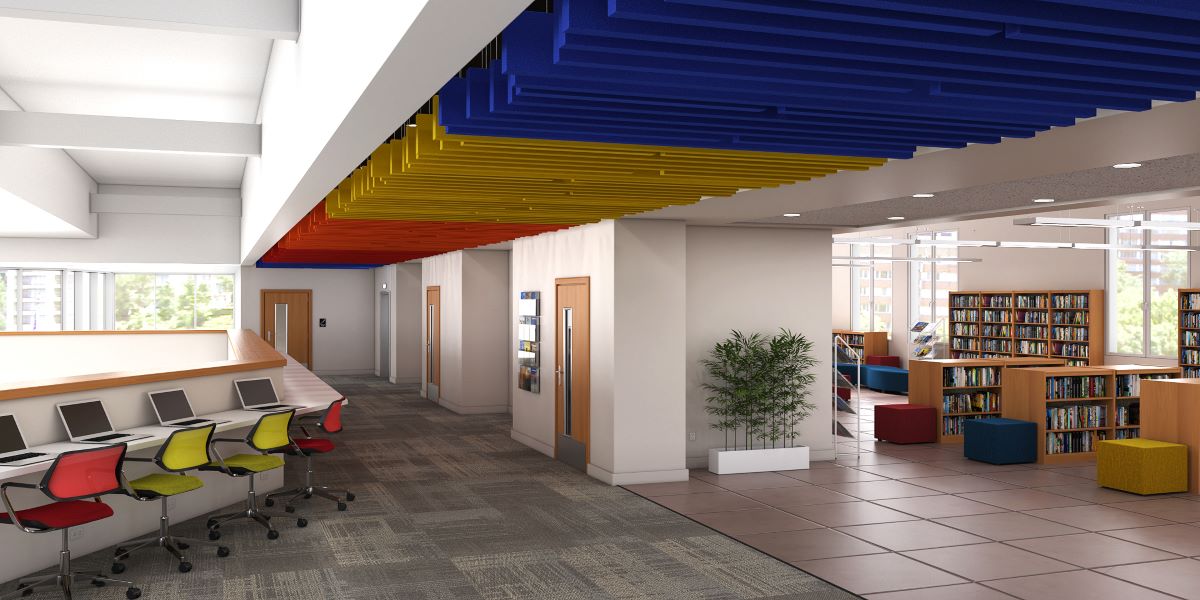 Are you designing an office or entranceway and trying to hide ceiling imperfections? Or are you working with a company owner wanting to include noise reduction techniques into the design of their establishment? No matter what, our selection of felt ceiling panels will enable you to add drama to your office space while also fostering a conducive acoustic environment.
These felt ceiling systems are soft and effective, bringing magnificent aesthetic and noise reduction capabilities to the environment without any difficulty.
The Benefits of Felt for Acoustic, Aesthetic, and Environmental Purposes In Ottawa, ON
PET felt is an adaptable material that can be used to satisfy the design requirements of a range of interior settings thanks to inherent features like durability and versatility. It may significantly lessen echo in areas and gives benefits of both colour and tactile attractiveness.
This is the reason why felt has seen an explosion in design applications in interiors, including walls, ceilings, hanging elements, and partitions. Felt fabrics also come in a variety of forms, such as felted wools, synthetic felts, and industrial felts.
At Altispace , we use PET (Polyethylene Terephthalate) felts, which are made of recycled content such as plastic bottles. The advantages of PET felt for acoustics, the environment, and aesthetics are discussed below.
Acoustic control
By minimizing sound reverberations and providing superior acoustic performance, PET felt helps absorb background noise, which is essential in many interiors. PET felt panels offer an eco-friendly solution for an acoustic design that softens sound.
Environmentally friendly
PET felt materials, which are manufactured from polyester fibres and recyclable materials and may also be reused or recycled, rethink the possibilities for plastic bottles. PET is a low-melt poly fibre generated in part from recycled plastic bottles, and many of the colour combinations are created using textile waste. As a result, PET acoustical panels are among the most environmentally friendly raw materials in the building, furniture, and interior industries.
PET is safe and stable for use inside since it is a chemically inert material that emits no VOC or smell. The quantity of plastic and clothes `waste' creates an almost limitless source of re-use material that can be recycled after being transformed into something useful. It is crucial to do your research before choosing a material since the percentage of recycled materials utilized might vary from zero to 100 percent depending on the production method.
Visually flexible
Felt is a sophisticated nonwoven material that can adapt to a variety of conditions, making it a practical and fashionable design option. For many years, sustainable surface solutions have been offered by PET goods. PET felt claims to provide a soft yet durable tactile feel that is appropriate for a variety of interior applications.
A unique combination of felt, wool, and fabric in terms of look, acoustical PET felt is robust enough to be used in more structural components like furniture, lighting, space dividers, ceiling treatments, and wall coverings. How far you can push your product concepts will be determined only by your ingenuity and engineering prowess. The applications for PET felt are endless, and its adaptable shape may be tailored to meet certain design requirements. PET felt can be used for panels, furniture, wallcoverings, and partitions.
Ease of installation
Our felt-covered products are all incredibly easy to install. Each product comes with instructions and the appropriate suspension system. Our products may be deployed as a stand-alone solution or as a ceiling system that fills the entire space.
What Makes an Altispace Felt Ceiling Unique?
Our felt panels for ceilings are contemporary, easy to use, and suitable for a wide range of settings. They are perfect for installation on any substrate and will provide fantastic results. These felt acoustical ceiling panels are great applications for a broad range of areas since they are sound-absorbing decorations that will also provide visual appeal.
Additionally, please let us know if you are working on a unique theme or have a certain design or style in mind. Our staff will work with you to create customized solutions based on your design specifications.
Our felt ceiling panels are perfect if you want to provide some seclusion, draw attention to the ceiling, highlight a particular feature, or muffle noise. These felt ceiling solutions in Ottawa, ON will give your area a unique feel and prevent sound dispersion for the foreseeable future, making them one of the greatest and simplest methods to add a touch of drama and function to the environment. Call us right now for further details.
Back