Floating Cloud Ceiling Available at Altispace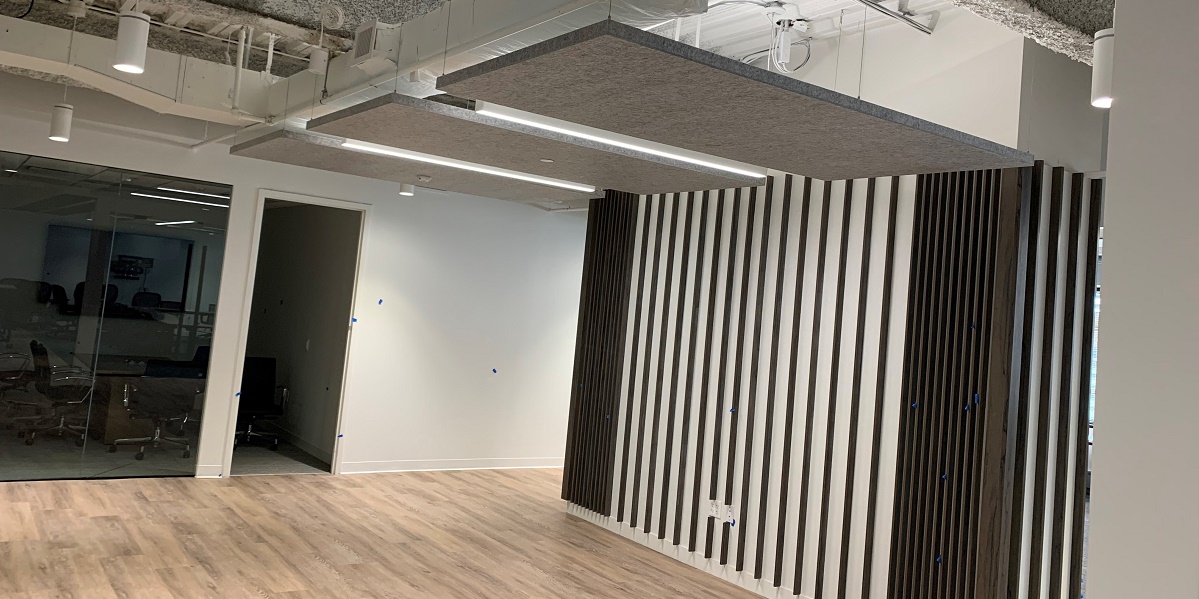 One of the most aesthetically pleasing acoustic and best solutions available on the market when it comes to ceiling clouds are floating ceiling clouds.  These are large-scale geometric forms suspended from the ceiling that effectively helps your workspace to absorb sound and offer a better acoustic feel in the setting.
Moreover, ceiling clouds are known to reduce the echo and damper noise in the workplace. To learn more about cloud ceiling designs, explore this webpage, which reveals a comprehensive overview of floating cloud ceilings and their application areas.
What is a Floating Cloud ceiling? 
Typically ceiling clouds are one of the best ceiling architectures designed to effectively reduce sound in large and open environments as well as in definite spaces. Moreover, stylish lines and soft shapes suspend horizontally from the ceiling and absorb sound across their entire surface for unequalled acoustical performance.
Floating ceiling clouds are a modern acoustic treatment designed to be suspended from a ceiling system and offer an increased surface area for sound absorption.
Significance of Cloud Ceiling Panels 
It has been seen that numerous commercial buildings, offices, gyms, and more experience large amounts of reverberation and echo effects. This unwanted noise is caused by the hard-scaled surfaces of the walls, ceilings and roofs reflecting noises repeatedly.
Thus, the arrival of a floating cloud ceiling reflects the overall scenario of the interior design industry.
Acoustic ceiling clouds reduce reflected sound in open and large environments while delineating space. Soft shapes and stylish lines suspend horizontally from the ceiling and accumulate sound across their entire surface for unrivalled acoustical effectiveness.
If you are seeking the best rated ceiling designs and installation services for your commercial workplace, it is vital to contact the #1 ceiling and architecture specialist, ALTISPACE.
Significant Advantages of Installing Cloud Ceilings in your Office or Business 
Also known as acoustic ceilings, floating cloud ceilings are gaining popularity in office designs. Here are the main advantages of this design feature:
Floating cloud ceilings give an office more height, making it more spacious. Compared to the alternatives that make a space feel small and cramped, floating ceilings add extra space to an office.
They increase natural light in your office. Research shows that natural light makes employees healthier, more productive, and more engaged. Also, natural light enhances the value of a space by making it more appealing to employees and customers.
Cloud ceiling designs allow design creativity. Distribution systems like piping fixtures and electrical installations can be used as decorative elements.
Adds character to an office.
Why hire ALTISPACE for floating cloud ceilings? 
We at ALTISPACE offer cloud ceiling panels, flat, convex and concave cloud panels designed for projects requiring design versatility with the option of sound absorption.
Cloud panels are easy to install and may be used individually or linked together (with mending plates) in various sizes and shapes to form more significant clouds. Mounted on 1″ steel tube frames, clouds can be perforated and backed with an acoustical backer.
Back