How Can Ceiling Clouds Improve Sound in Indianapolis, IN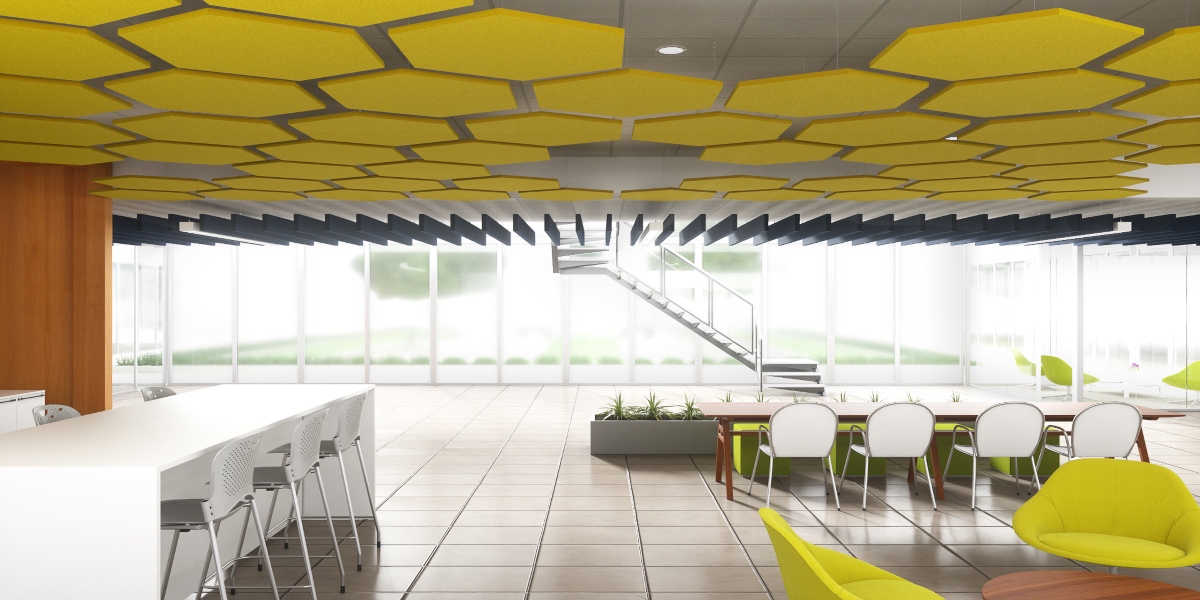 Learn about acoustic ceiling clouds, what they're for, how you can customize them to suit your space, and how you can use ceiling clouds for sound improvement.
Ceiling Clouds for Sound
Ceiling clouds are products you hang from your ceiling to reduce the amount of reflected sound in large and open environments and smaller areas. Ceiling clouds come in different lines and shapes that you can suspend horizontally from the ceiling. When they are designed and installed correctly, these clouds can absorb most excess noise.
Ceiling clouds are particularly useful in meeting rooms where there might be many people talking at the same time. Meeting rooms are often noisy. However, in order to have an effective meeting, you need limited noise so people can hear one another and concentrate on their work. Ceiling clouds are great for achieving this.
What are the benefits of ceiling clouds apart from just sound?
The main reason to install ceiling clouds is to achieve the acoustic ambience you want. But this isn't the only benefit that ceiling clouds can confer. Some added benefits of ceiling clouds include:
Improved aesthetics
Ceiling clouds don't have to be an eyesore. On the contrary, the right ceiling clouds can really spruce up your workplace's decor. Many offices are rather drab and dull, or at least, their ceilings are. But with ceiling clouds made from materials that augment your business's aesthetic, you can create an interesting and unique cloud space for your office. Choose the stylish shapes you want to give your workplace the artistic touch it needs. Give your office the character you want your business to have.
Improved morale
The right acoustic clouds can even improve the mood of your staff. Noisy environments can hurt productivity and morale. Loud environments can feel chaotic. They make it hard for people to hear one another and to focus on their work. It's common for people to feel stressed in these environments. Acoustic ceiling clouds can provide a quieter and calmer environment for your staff to work in peace. Improved morale can lead to increased productivity and stronger team unity, and they can just put everybody in a better mood.
These benefits aren't that hard to get, either. Installing ceiling clouds is not that difficult nor expensive of a process. Some more reasons to install ceiling clouds include:
They're easy to install
Acoustic clouds aren't that hard to install. You won't have to shut down entire sections of your workplace for weeks for renovation. They're also easy to remove when you move or redecorate.
They're very durable
You don't have to worry about having to replace your clouds every couple of years. Well-designed clouds won't lose effectiveness over the years. They can dampen sound for decades.
Contact Altispace in Indianapolis to learn more about ceiling clouds for sound
At Altispace, we manufacture high-quality and cost-effective ceiling clouds. We offer a range of acoustical and laminate beams and shapes for your cloud space in Indianapolis. Our customizable product line means you can create your own custom design. Made with our expert engineering and manufacturing processes, our ceiling clouds allow you to create the perfect acoustic and aesthetic environment for your unique space. To learn more, please contact us via our website, by email, or by calling us at 226-636-5965.
Back