NRC Ceiling Tiles Available Near Me in Calgary, AB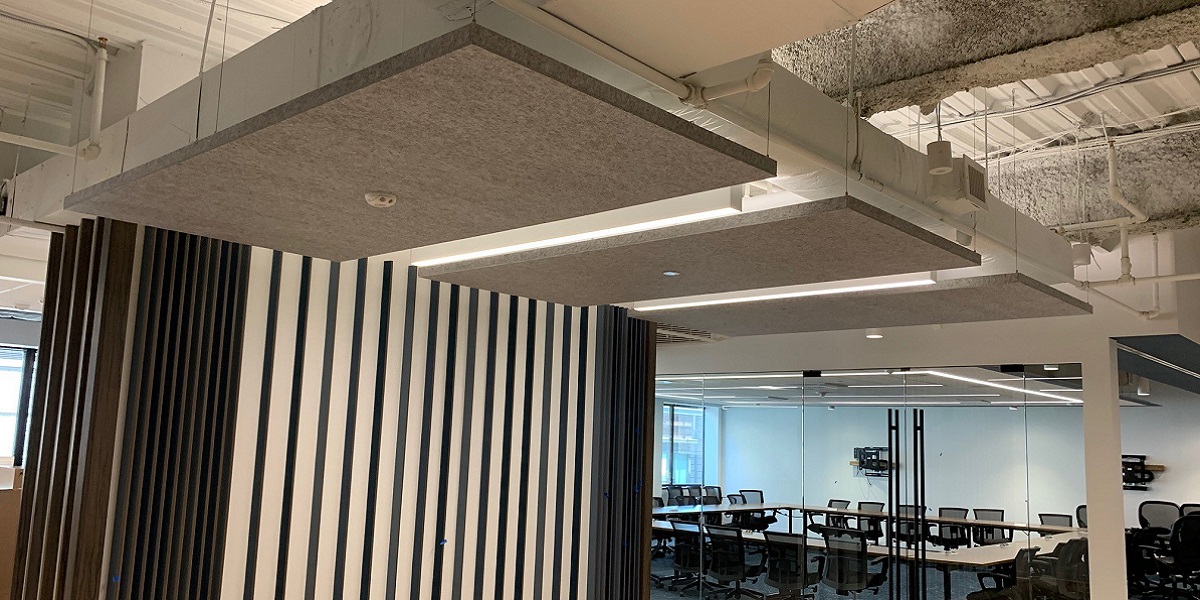 It has been proved that people perform significantly better when ceilings with high Noise Reduction Coefficient (NRC) ratings replace ceiling materials with low acoustical performance.
No matter whether the studies are centred on teaching in lecture halls, healing in hospitals, or working in offices, individuals are more at ease, secure, productive, and happy when high NRC acoustic ceilings are installed.
Buildings can greatly benefit from the installation of NRC ceiling tiles to minimize noise. They have sound absorption and blocking capacity, lessen echoes, and stop sound from reverberating in adjacent areas. But these insulating techniques also provide advantages other than sound reduction. Additionally, they can:
Promote greater energy efficiency.
Assist in enhancing year-round comfort.
Improve interior areas without doing costly renovations.
Hide ugly ducting, pipes, and cables.
A wide range of commercial structures, including studios, office spaces, schools, hospitals, grocery shops, and more, can have NRC ceiling tiles installed.
The Benefits of NRC Ceiling Tiles In Calgary, AB
The NRC rating mainly focuses on absorption. How well a certain substance will muffle sound, particularly speech, as it travels through an item. The accepted range in the industry is between 0 and 1, where 0 is entirely reflecting and 1 is entirely absorbent. The quieter your room is, the closer it is to a 1 rating.
NRC acoustic ceiling tiles are used in many settings. They may be found in most business buildings, dining establishments, and schools. In reality, they are a fantastic, cost-effective option to muffle background noise and even save energy expenses in large business settings. Read on for all the advantages compiled by the professionals at Altispace if you are unsure if this is the perfect solution for your business space.
Noise absorption
NRC tiles may be employed in smaller rooms as well as larger ones, such as recording studios and auditoriums. Any size office can benefit from the noise reduction that an NRC ceiling offers. Your staff will be grateful for the comfortable workplace you have provided for them, free from noises like talking and footsteps. NRC ceiling tiles are designed to disperse and absorb noise rather than allowing it to enter your room.
Power savings
NRC ceiling tiles have also been demonstrated to lower energy expenditures in addition to reducing noise. First of all, their high levels of reflection make it simpler to light up a big area. Additionally, lowering your ceiling height by installing NRC ceiling tiles results in more insulation. NRC ceiling tiles reduce the amount of area you need to heat, which saves your energy costs.
Various design alternatives
The day when soundproof ceilings could only be made of white rectangles mounted on metal frames is long gone. NRC tiles are available in several patterns, hues, forms, sizes, and textures. In addition to adding an appealing aspect to your room, they may hide a number of ugly elements like pipes and wires.
High NRC Ceiling Products With Altispace Achieve Optimum Acoustics
Altispace offers a wide range of sound-absorbing acoustic ceiling solutions in Calgary, AB to assist in optimizing acoustics for modern business designs.
These include ceiling clouds, shapes, and baffles, which have noise reduction coefficients (NRC) ranging from 0.6 to 1 which is maximum sound absorption. Altispace ceiling solutions that absorb sound reduce reverberation time, affect speech clarity, lower noise levels, and support seclusion.
Altispace NRC ceilings offer a clear, cost-effective way to adhere to the most recent acoustic regulations, rules, and requirements. Without sacrificing design or functionality, Altispace ceilings let you create the optimal acoustic environment.
Enhancing the Acoustic Environment for Your Next Project In Calgary, AB
Open-plan offices, schools, retail stores, patient recovery spaces in healthcare facilities, as well as multipurpose rooms, hallways, conference rooms, lobbies, and reception areas, can all benefit from the improved acoustics provided by high-performing absorptive ceiling products of NRC ratings.
Generally speaking, a higher NRC is preferable. There is frequently a need for extra wall absorption when the ceiling is below NRC 0.70. Look at your ceiling panels to satisfy the high absorption requirements you require, and when blocking is required, look at your walls.
NRC Ceiling Products with Acoustic Absorption From Altispace Have an NRC range of 0.6 to 1 which is maximum sound absorption.Altispace boosts the high sound absorption capacity of ceiling panels, which helps to improve acoustics in open-plan offices and other commercial interiors.
Utilize NRC Ceiling Tile In Calgary, AB
Altispace NRC ceilings now come in a broader variety of standard sizes, forms, and formats, helping commercial projects achieve their creative design, industry-leading performance, and sustainability objectives.
The Altispace Articulation Class (AC) rating of 190 offers speech privacy in addition to the advantages of high NRC, making it possible for talks to take place in places like human resources offices and clinics with partial height barriers.
High sound absorption reduces excessive reverberation and helps regulate background noise levels. This enhances speech comprehension, boosts focus, and lessens the "Lombard effect," which occurs when people speak louder and louder to be heard when attempting to communicate in busy surroundings.
Speak to Altispace today for Better Acoustic Ceiling Options In Calgary, AB
Acoustic ceilings are a specialty of Altispace. We handle all types of construction projects, from small office tenant improvement projects to grocery stores to office buildings and large hospitals. We are knowledgeable about each market and which type of ceiling will produce the best results, whether your project is an industrial one, medical facility, restaurant, or arts-related building.
Our ceiling systems make it quick and easy to design stunning, pleasant environments. They are robust, simple to install and protect people from noise and the spread of fire while actively working toward a sustainable future. Give us a call right away so we can start helping you.
Back