Suspended Acoustic Ceilings Offered at Altispace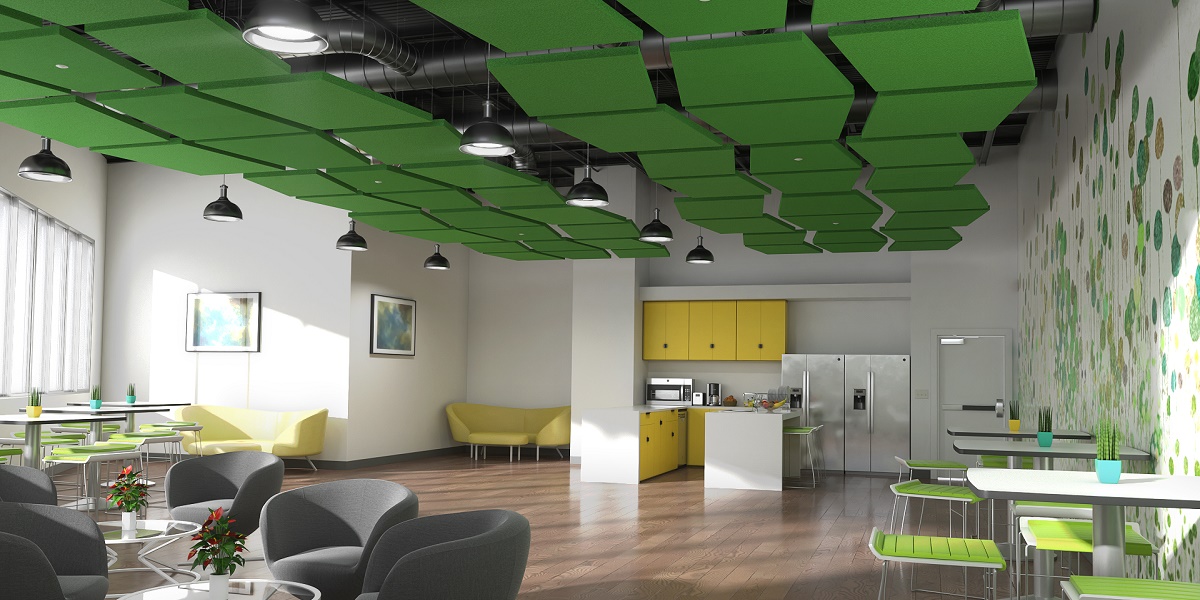 Whether building something new or starting a renovation, you want a solid and satisfactory acoustic solution. There is no better than suspended acoustic ceilings. Such ceilings enhance your building's overall look and appearance, whether it is a corporate office or auditorium.
All About Suspended Acoustic Ceilings 
A suspended acoustic ceiling is a supplementary ceiling hung underneath the structural ceiling to classify room acoustics while also being visually appealing. Suspended ceilings have the additional advantage of concealing mechanical, electrical, and plumbing installations while allowing some access to these utilities.
In other words, a suspended acoustic ceiling comprises a grid system and acoustical ceiling tiles. It is referred to as a lay-in ceiling by some. This system is long-lasting, versatile, and reasonably priced. Furthermore, these tiles are removable without causing structural damage, allowing you to maintain electrical and HVAC systems above the ceiling. This style of drop ceiling is used in a variety of commercial projects.
IF you need the best quality Suspended Acoustic Ceiling installation services, consult with the professional interior designers of ALTISPACE. 
Different Types of Suspended Acoustic Ceilings 
Suspended Acoustic ceilings are available in different formats:
Exposed Grid 
Typically, exposed grid ceilings are the most common type of suspended acoustic ceilings and consist of long metal strips named mains interlinked with shorter metal pieces known as tees. The mains and tees collaborate to form a grid system of 2′x2 ′ or 2′x4′ squares, which are then filled with acoustic ceiling tiles.
An exposed grid ceiling is the most popular type of ceiling. They are frequently used in offices, bathrooms, service rooms, and other locations where frequent maintenance checks and replacements are required. The exposed grid is exactly what it sounds like: long metal strips called "main runners" that run the room's length, preceded by easy-to-connect shorter metal strips called 'cross tees'.
Concealed Grid 
Another type of suspended ceiling system is a concealed grid ceiling system similar to the previous one, i.e. exposed grid ceilings. They use a similar metal framing structure. Nevertheless, the acoustic ceiling tile is installed to hide the grid system. This high-end look is budget friendly to install. They create a smooth, clean appearance. Consumers are extremely satisfied with how this ceiling finish and product transforms their office space into a more modern and clean environment.
Suspended Plasterboard Ceilings
These ceiling systems are frequently used where service upkeep is negligible, but room for installation with minimal framing inside the ceiling cavity is required. Suspended plasterboard ceiling frames are made up of four essential parts:
Wall Angle – This is to safeguard all perimeters of the ceiling to the walls for plasterboard fixing.
Framing body  – This comprises furring channels and top cross rails that form a grid that allocates weight evenly across the ceiling.
Hanging System  – Depending on how far the ceiling needs to be dropped, this component will determine what hanging system is used. The most common forms are gold clips and hanging rods.
Plate board sheeting  – Eventually, plasterboard installation and completion to accomplish the smooth, seamless finish.
How do Suspended Acoustic Ceilings Affect Sound Performance? 
Suspended acoustic ceilings are used for one or multiple acoustical reasons:
Sound Absorption 
When an absorbing material encounters sound, some energy is converted into heat, and some are transmitted through the material.
Sound Reflection 
When wave energy hits a material, it bounces back in two ways: directly and indirectly as reverberation.
Sound Diffusion 
In a room, wave energy returns evenly. Space reverberation times are the same at all listening positions in a perfectly diffusive sound.
Materials used for Suspended Acoustic Ceilings
Numerous materials are available for suspended acoustical ceilings, each with advantages and disadvantages. The most common materials are classified as follows:
Mineral: Made from mineral fibres, clay, perlite, and recycled paper, are less expensive and primarily used in retail or office buildings.
Metal: Metal ceilings reflect sound well but do not absorb it; they typically have holes, slots, or other openings to allow sound to pass through and are made of aluminium.
Wood: Wood, like metal, lacks sound absorption but is a designer favourite due to the variety of species available.
Unique materials: Acoustic foams, polyethene felts, cementitious wood fibre, PVC stretch, and reinforced gypsum tiles are speciality ceiling materials.
Get in Touch with ALTISPACE for Suspended Acoustic Ceilings
Are you looking for top-quality suspended acoustic ceilings for your Office or Gym? Visit the official website of ALTISPACE.
Back