Wood Beams With Lights at Altispace in Philadelphia, PA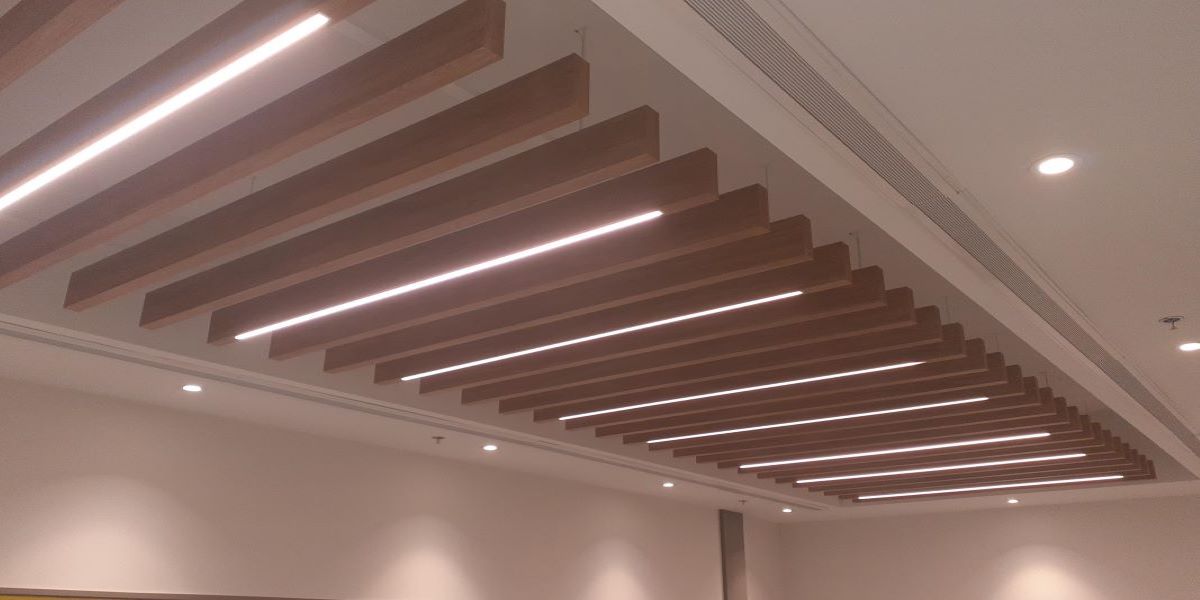 Are you looking for a ceiling solution that can offer style, modern design and lighting without breaking the bank? Consider wood beams with lights or illuminated beams from Altispace.
Our illuminated beam options offer designers and architects the option to have a unique designer friendly ceiling option without the concerns of mounting capacity and weight issues. Our beams are made out of a laminate material and wood to offer a realistic yet lightweight and stylish option to improve your cloud space.
To take it one step further, Altispace offers these wood beams with lights incorporated into the product – selling illuminated beams.
What are Illuminated beams?
The illuminated beams offered at Altispace are horizontal beams with integrated LED lights. This offers a new dimension to your cloud space and can help improve any design you may be working on. As mentioned, these beams are lightweight and can add a stylish and unique look to any space from office buildings to boardrooms to libraries to restaurants and more.
Standard size of these beams offers a 2 inch thickness where a LED strip is added, to offer illuminated lighting for any room. Further, the Illuminated beams can be back lit to shine light on a wall or ceiling feature or you can have them lit both ways. The option is yours to choose. Standard lengths and heights are offered with the option to cutomize the colour of the beam as well as the colour of the light. Lengths include: 24 inch, 36 inch, 48 inch, 60 inch, 72 inch, 84 inch, 96 inch, 108 inch, 120 inch or customizable to suit your project needs.
Heights include: 4 inch, 6 inch, 8 inch, 10 inch, 12 inch
There are also a number of colour options available for illuminated beams, offering over 20 colours to choose from to help create the perfect solution for your next project.
When looking at the lighting options available you can customise that too. Our illuminated beams offer 5000 Kelvin -Bright daylight or 3000 Kelvin -Warm daylight options to suit the style and mood of any space.
Why Choose an Illuminated beam In Philadelphia, PA?
There are a lot of different options on the market today for design ideas offering wooden beams with lights. Some options might include having to source the beam and lighting products separately and combining them together during the installation phase. Other options might include ordering two different products and using both of them in the design process.
At Altispace, our wood beams with lights come as one product that can be customized specifically to your project and design needs. You can visit our website to shop and choose your colours and sizing. All orders are made custom with industry leading lead times. So, you only need to rely on 1 product to be ordered to suit all your design needs, and expect it to be delivered in quick fashion.
The Iluminated products from Altispace also save you from the extra task of specifying two different products for the same space, beams and lights. When looked at in a holistic view, it also leads to cost savings in terms of specifying extra products, procurement of two different products for the same space and installation costs from the contractors for beams and lights. All this can be combined in one product from Altispace.
Gone are the days of installing wooden beams with track lighting or pendant lighting. Altispace Illuminated beams offers a similar, much more appealing approach for the needs of today's market.
These beams offer an unmistakable ambiance that can be used not only for ceiling design to improve your cloud space, but also vertically for walls to create a statement piece.
Installation of our Products
Not only are the illuminated beams at Altispace a great option for incorporating a lighting fixture into your design, but it also is easy to install. Each order comes with two suspension options – either with an Aircraft cable or using an Unistrut system. Both options can be done by a general installation contractor with no special equipment required. Altispace provides an installation guide for each project along with a dedicated support team to help with any questions you or your team may have along the way.
Product Maintenance
When it comes to maintenance Altispace Illuminated beams are low maintenance once installed. Over time dust, dirt and debris may accumulate on the panels and suspension hardware. This can easily be removed with suction from a vacuum or by wiping them with a dry, clean cloth. A cleaning guide is also provided with each purchase.
Talk to Altispace Today For Your Wood Beams With Lights In Philadelphia, PA
At Altispace, we strive to help designers and architects find the perfect product for their designs. We continue to develop and create new products with you in mind. All of our products are made using eco-friendly materials and can be shipped in impressive lead times. Try our illuminated beams for your next design project where wood beams with lights are required. Whether you are looking to enhance aesthetics or find the next great acoustic product, Altispace has what you need. Call today to inquire and learn about our current lead times for your next project.
Back