Wood Slat Ceiling Solutions Designed by Altispace in Ottawa, ON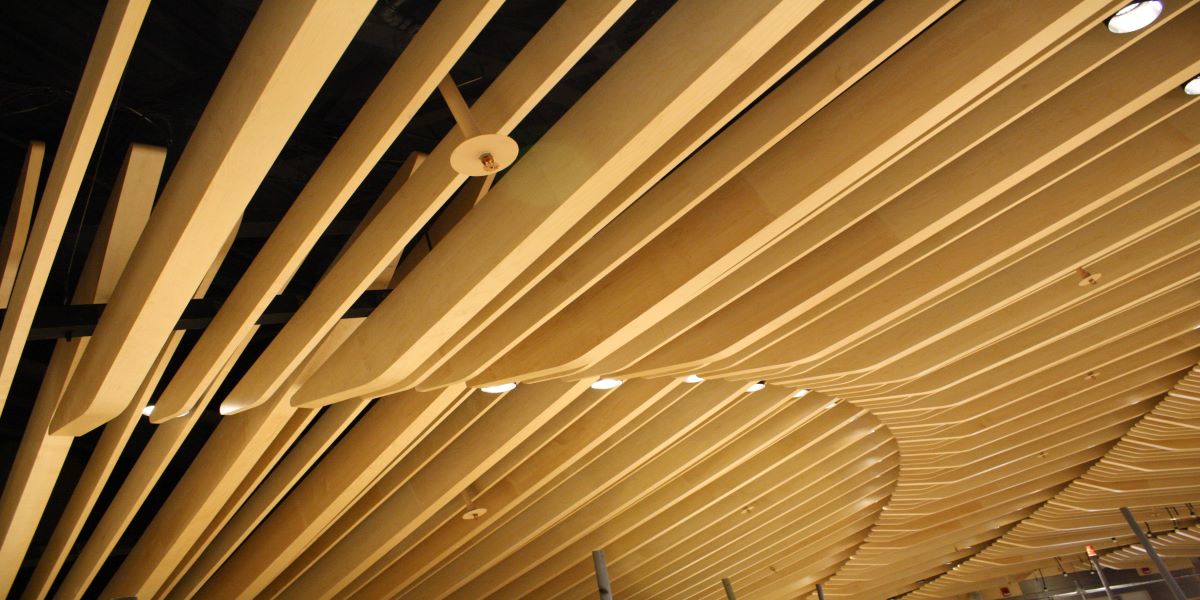 Have you ever entered a renowned music venue and been awestruck by a band's fantastic sound? The sound of the performance hall itself may be advantageous to the entire orchestra, even if the symphony's quality is crucial to the experience. To provide the finest sound quality, the entire arena is constructed with specially designed wood slat walls and ceiling panels.
The use of sound-absorbing, natural wood panels is one of the more attractive methods in architectural and acoustical design. When used appropriately, the combination of natural linear wood and sound absorption will significantly improve a room's acoustics while also enhancing the chosen wood's aesthetic appeal. A wood slat ceiling is among the most used materials for enhancing acoustics. It not only gives the space a nostalgic and traditional feel, but it is also one of the greatest materials for combining aesthetic design with optimal acoustics.
While in some locations solid wood beams may be used to create the look. This can become incredibly heavy and incite the need for structural reinforcement. Now, you can get the same acoustic performance and visual benefits with a lighter, easier-to-install alternative provided by Altispace.
Wood Slat Ceilings Using Altispace Products
Altispace wood slat ceilings are constructed by arranging our beams in such a way that they look identical to the conventional wood slats you might see in a music hall. Our beams come in 72 standard sizes and 21 standard colours, including wood finishes, for quick and convenient manufacturing; however, if you are looking for a customized design, we can work with you to make your design come to life.
A wood slat ceiling's key benefits are its ability to reduce standing waves, reflect high frequencies, enhance sound resonance, and absorb bass energy. This is among the causes for which it is crucial to tailor the solution to your demands. The location of your wood slat ceilings will play a significant role in your ability to achieve your goals.
Where Are Ceiling Panels Made of Wood Slats Used?
It is advisable to utilize wood slat ceilings in areas where sound management is crucial. Examples of areas where wood slat ceilings make a welcome addition include:
Lobbies
Lounges
Open-concept offices
Conference rooms
Large classrooms
Auditoriums
Major Advantages of Wood Slat Ceilings In Ottawa, ON
Do you have any experience remodelling commercial buildings? Have you given any thought to giving the interior a classic touch that would improve the clarity and sound quality of the conversation? If you answered "yes" to either of these questions, then Altispace's Wood Slat Ceiling Boards are for you. Since the middle ages, interior walls have been lined with wood panelling. One of the easiest ways to alter the overall appearance of an interior space is to use one of our many cloud space solutions. Our products will extend your interior design possibilities by not only altering but also enhancing walls and ceilings.
The Altispace collection of acoustic ceiling and wall panels makes it simple to choose the type of panel you desire. We have a vast assortment of shapes, sizes, colours, finishes, and textures available.
Altispace Wood Slat Panels are an excellent choice for noise control in your interiors because of their innovative acoustic and textural design. These panels' extensive selection of attractive vinyl and PET fibre treatments makes them ideal for boardrooms, lobbies, and other public venues that are prone to undesirable reverberation or background noise.
The Numerous Advantages of a Wood Slat Ceiling In Ottawa, ON Include:
Sound insulation and acoustics
Ceilings with slats offer excellent soundproofing and acoustics. It is a fantastic alternative for communal places, such as public or business environments. Its construction prevents noise from bouncing off the walls and allows sounds to circulate freely within and around the room. Ceilings with slats are renowned for their excellent noise-cancelling properties.
Aesthetic appeal
Aside from being a wonderful building material, our products can also be used to adorn walls, ceilings, or even just to provide texture and colour, which improves the mood of the room. The room is made brighter, cozier, or more exciting by the specific colour that you choose. When used properly, slatted ceilings enlarge and improve the appearance of the room.
Low Maintenance or Upkeep
Altispace slat ceilings require little to no upkeep after installation. We recommend removing dirt, dust, or other allergens from the slats to ensure a clean environment for staff and patrons; however, no other frequent maintenance will be necessary.
Switch to a Wood Slat Ceiling Today With Supplies From Altispace In Ottawa, ON
A sense of beauty, warmth, and elegance unmatched by any other resource may be found in wood slat ceilings. Almost any commercial facility that demands a high level of acoustics or aesthetics may use wood slat ceilings.
We encourage you to go through our project portfolio to see how the beauty of our products blends with the architecture. For additional information or to schedule a consultation, get in touch with Altispace to discover a new level of beauty.
Back