Wood Slat Ceiling System by Altispace in Toronto, ON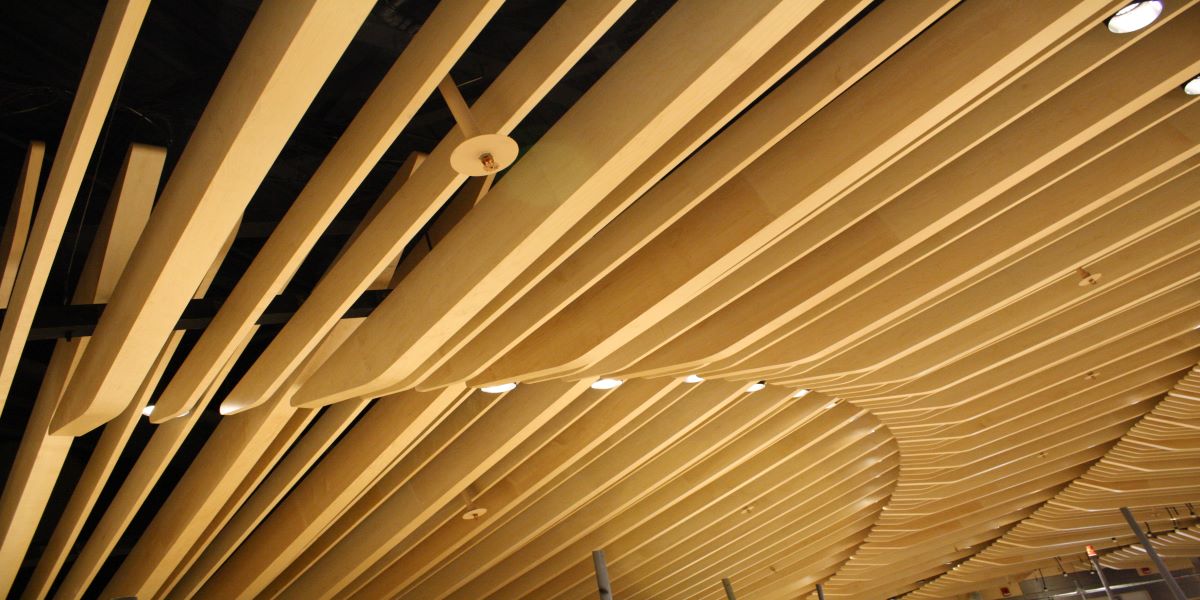 A wood ceiling is one of the most adaptable styles, which works well with traditional and contemporary architectural designs. A hardwood ceiling is not outdated; on the contrary, it is becoming increasingly popular in interior design since it has an unrivalled mood.
Wood is a time-honoured material that has been used for ages to build and decorate. It is now a well-liked material for ceiling decorating since it protects the space from cold and overheating, is sturdy, and is safe for the environment.
As interior styles shift away from the use of ceiling tiles and other fads from the past decades and towards the use of wood, we have found an increase in demand for wood veneered and laminate slat-style ceilings.
At Altispace, we have designed horizontal beams that can be utilized to create your perfect wood slat ceiling.
Benefits of an Altispace Wood Slat Ceiling System In Toronto, ON
The use of wood as a construction material in general, as well as wood slat ceilings specifically, has several advantages. Wood is a very sought-after material in many building projects due to qualities like weather resistance, heat and electricity conduction (or lack thereof), and its advantages in terms of acoustics.
There are 4 main advantages of using slatted ceilings from Altispace, including:
Lightweight Materials
Low Maintenance and Installation
Optical Appeal
Noise reduction and acoustics
Lightweight design and customizable materials
When you choose an Altispace slat ceiling system, we utilize beams specifically designed to be lightweight. Our beams are constructed with a wood frame, fiberboard, honeycomb door core and are wrapped in laminate material. This design allows us to create slats in 72 standard sizes and 21 standard colour options. Additionally, if you are looking for a custom size or colour, our team can help bring your ideas to life.
Low cost of maintenance and installation In Toronto, ON
A wood slat ceiling system designed by Altispace is easy to install and comes with the required mounting accessories. Additionally, your beam system will require little to no maintenance after it is installed.
While we recommend cleaning your slat ceiling to refrain from the accumulation of dust or allergens in your office space, no other maintenance will be needed on a consistent basis.
Interior design with better aesthetics In Toronto, ON
Do you wish to enhance the appearance of your interiors? A wood slat acoustic ceiling system is a lovely addition to any commercial area and may significantly enhance the appearance of your surroundings.
Systems with wood slats for the ceiling are highly developed and created with both function and aesthetics in mind. Depending on your design goals, you may also purchase a wooden ceiling system that has been customized. A space might feel significantly brighter because of the soothing and mellow lighting of the natural colours or because of the integration of an LED lighting system. When used properly, a wood ceiling or wall may give the impression that the space is considerably larger.
Acoustics and sound insulation
The Altispace beams used to create your wood slat ceiling have exceptional acoustic and soundproofing properties. The slatted design, which is ideal for a social setting like an open-plan office or public area, allows sounds to pass through and around rather than bounce from wall to wall.
Create and Install Your Wood Slat Ceiling System with Altispace In Toronto, ON
With Altispace, you will get the assistance and direction you need to design the ideal space, from conceptualization and details to fabrication and delivery.
Our design experts will guarantee that you can achieve the ideal balance without sacrificing aesthetics, whether you need to reduce sound to optimize your space for occupants, such as in educational or healthcare institutions, or you need to amplify it for theatres, art halls, and other places. For additional information, speak with Altispace in Toronto, ON now.
Back