Wooden Ceiling Baffles From Altispace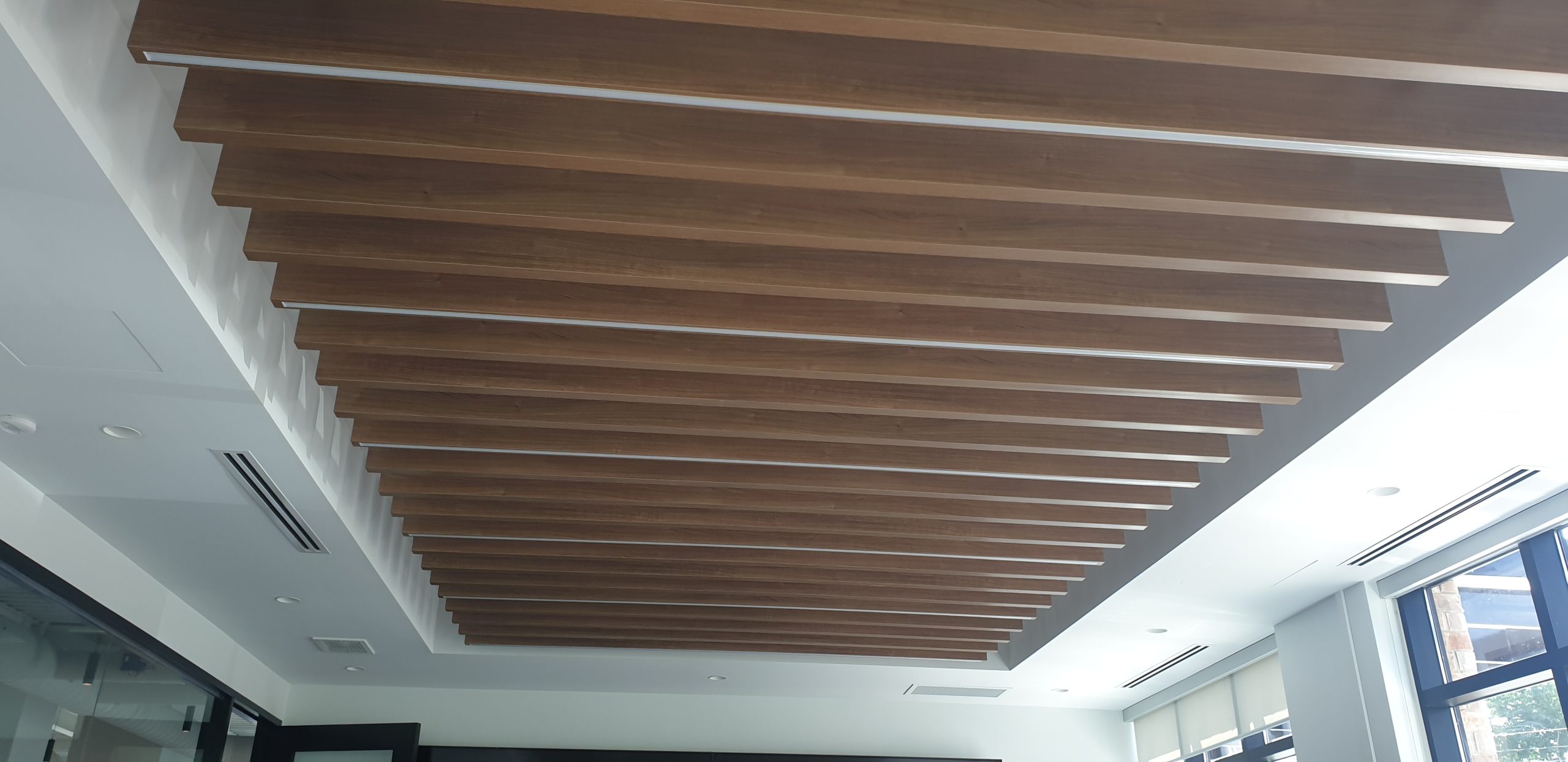 All About Wooden Ceiling Baffles 
Free-hanging ceiling components called baffles may be installed in several ways to produce graceful lines and striking patterns on the ceiling and wall planes.
Baffles are equipped with brackets and a suspension system or hanging accessories. The baffle can be customized to fit the aesthetic of any space and when hung on the ceiling will reduce echoes in sizable covered areas. This acoustical performance is due to the construction of the product; we utilize a honeycomb door core that increases sound absorption.
Our wood baffles are excellent sound diffusers because they reflect and disperse sound waves to lessen echo in space. Wooden ceiling baffles are great for creating a decent noise level inside a room and an attractive appearance. 
The ceiling above and the plenum space are visible through these wooden acoustic hanging baffles. They are particularly suitable for therapeutic facilities with solid roofs that require a specific design or acoustic sound enhancement. Acoustic hanging baffles made of wood are useful for lowering radiated sound quality and levels. Sound barriers are excellent for reducing reverberant sound and noise pollution.
Importance of Wooden Ceiling Baffles
The installation of wood ceiling baffles in the workplace plays an important role in enhancing the overall appearance of the building. These super-effective sound absorber lightweight products make your workplace, whether in a corporate office, cafeteria, or restaurant, more noise-free. Along with that, this equipment has numerous uses:
Large concert halls

Music studios

Opera houses

Restaurants

Offices

Recording rooms 

Entertainment areas
Baffles are an economical move to step towards a healthier workplace environment. 
Major Advantages of Installing Wooden Ceiling Baffles
Wooden Ceiling Baffles give you an elegant touch to make your office or workspace more luxurious and premium. There are lots of advantages to installing Wooden Ceiling Baffles, as follows:
Acoustics and Soundproofing
Wooden ceilings provide very good acoustics and soundproofing performance. It is an excellent option for social spaces, which include public or office spaces. It allows sounds to move in and around the space without the noise bouncing off the walls. Wooden ceilings are known for their exceptional noise-reduction ability.
Natural Aesthetics
Aside from being a wonderful building material, wood can also be used to adorn walls and ceilings or provide natural texture and colour, improving the room's mood. The natural hue of the wood makes the room brighter and more soothing, which also gives the space a cozy vibe. When used properly, wooden ceilings enlarge and improve the room's appearance.
Minimum Maintenance
A wooden ceiling requires little to no upkeep after installation. But this depends on the quality and kind of wood used to design and construct your ceiling. For the best product performance and to increase the lifetime of your timber ceiling, we advise periodic maintenance. As many Altispace products utilize laminates and veneers you can expect little variation.
Installation
Altispace wooden ceilings install much more quickly and simply without the burden of tracking down individual components because the parts are readily available. Before choosing the ideal wood ceiling, consider all your possibilities and choose the one that best satisfies your needs. When you purchase Altispace beams or blades for your ceilings you can expect all mounting components to be included when your product is delivered.
Why Choose Altispace for Wooden Ceiling Baffles? 
Undoubtedly, wooden ceiling baffles are the best-suited solution for your commercial properties. To get the best results or solutions, you need a leading interior designer's team or an architectural company that works with Altispace. We are one of the best companies in Canada that offer best-in-class lightweight and economical wooden baffles for almost every commercial domain, from Music Studios to Cafés or lounges. 
Our customizable product line gives you the flexibility to create your unique design concepts quickly and efficiently, enhancing the aesthetics and performance of your cloud space. Made with our efficient engineering and manufacturing processes, allow our cost-effective products to elevate your designs.
Back