Custom Ceiling Beams Available At Altispace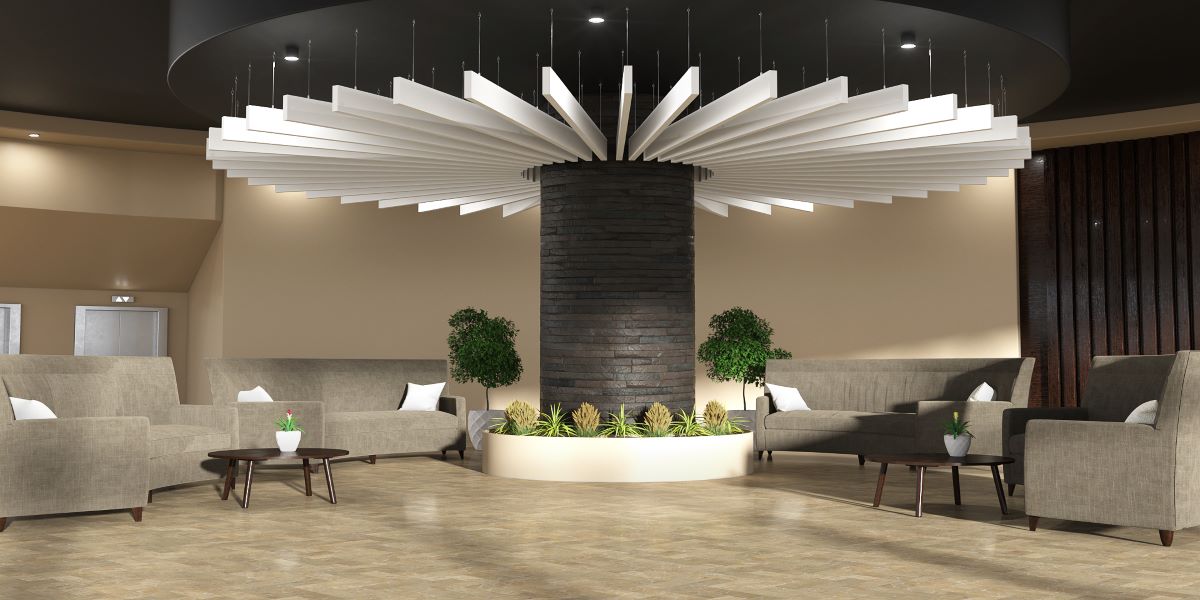 Custom Ceiling Beams are a terrific technique to make businesses, office spaces and schools look better. Any structure may have custom ceiling beams built by Altispace, and office and school owners can pick the ideal piece of material to fit their cloudspace. Are you looking for the best ceiling option for a commercial space, school or industrial setting? Altispace provides outstanding custom ceiling beams to suit any space and they come with optimum affordability.
Altispace custom ceiling beams are a wonderful way to give any commercial or industrial setting a touch of style, whether it be a natural look, modern look or a pop of colour. When contemplating ceiling beams for your upcoming project, office or school, designers and builders have a variety of options.
At Altispace we design and manufacture a wide range of products to help elevate your cloud space. Our product lines include beams, blades, shapes and clouds to perfect your next design.
Using Altispace Ceiling Beams To Design Your Space
Regardless of the style of your next product, our custom ceiling beams can help elevate your space.
Our standard product lines offer various colours, sizes and finishes such as wood veneer. We understand that sometimes that doesn't cut it, though. Our ceiling beams are available for full custom orders. We can make our beams to any size range outside our standard sizes. Those standard sizes include:
Lengths: 24 inch, 36 inch, 48 inch, 60 inch, 72 inch, 84 inch, 96 inch, 108 inch,
120 inch.
Heights: 4 inch, 6 inch, 8 inch, 10 inch, 12 inch
Our standard offerings for ceiling beams include over 20 colours to choose from. These are our most popular options, with new colours being added occasionally. However, suppose you have a custom project that requires a specific colour match to a certain colour code or to complement an existing design feature. In that case, we can accommodate those custom projects.
Custom Ceiling Beams Installation
Once you have your custom design concept produced by Altispace, all of our products, including the beams, can be easily installed by any general installation contractor. Each order includes hardware and instructions to install the beams with no special equipment required.
Custom Ceiling Beam Maintenance
Your client can rest easy knowing that the maintenance for their custom laminate ceiling beams won't be a big job or take up a lot of time. As dust, dirt and/or debris builds up on the beams there are some quick and easy options to keep them clean. A vacuum or dry cloth should take care of any build up on the product. Sucking away dust and dirt and giving each beam a wipe down can keep them vibrant for years to come.
Get Your Custom Ceiling Beams With Altispace Today!
As a person with passion for interior design, give our product a try at Altispace. Our standard product sizes have a number of options to fit almost everyone's needs. For the select few that need fully custom options, we can accommodate those requests as well.
Reach out to our sales team with the design ideas and certain colour combinations needed so we can discuss in depth the options on how to bring your design to life.
Whether you are designing a small space or large space we have products to fit your every needs.
Our sales team is available from start to finish for every project, so you have dedicated support during the entire process. Shop our products or contact us to learn more about Altispace and our custom sizes available!
Back