Explore Sound Dampening Baffles at Altispace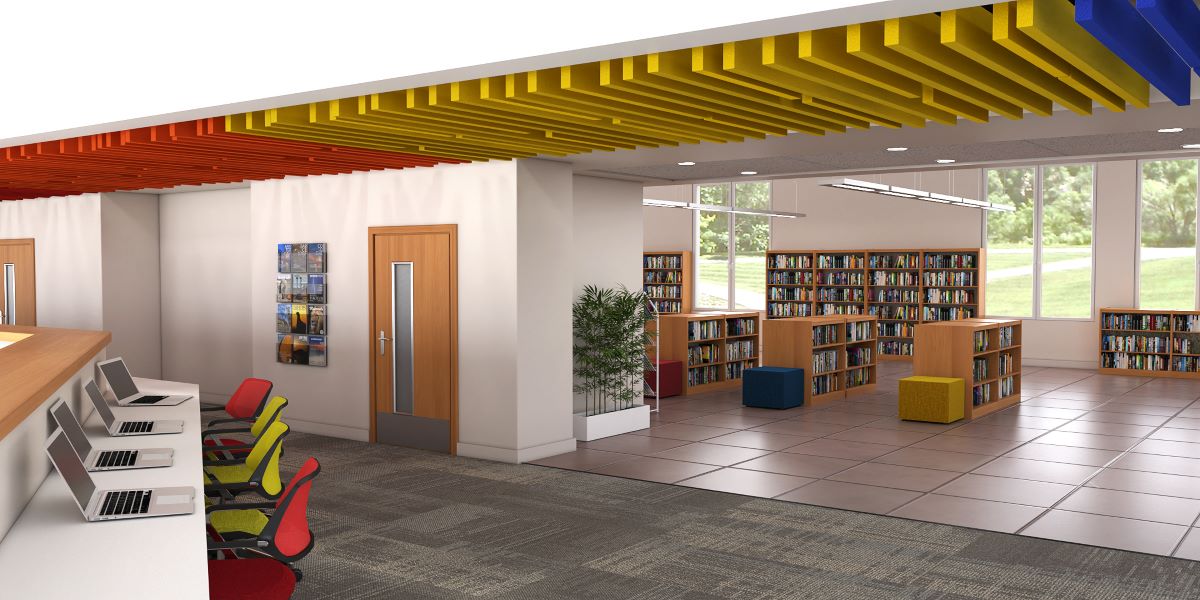 Incorporating sound dampening baffles is sometimes the only way to address noise issues within specific spaces. If the room is a large, open area with no wall surface available for acoustic treatment, ceiling sound baffles can be the most effective option. Similarly, even if the room is small but is getting sound reflection specifically from high ceilings, ceiling sound baffles provide an easy way to break up the noise that is reverberating in the space.
What are Sound Dampening Baffles? 
A sound baffle is a construction or device that reduces airborne sound's strength (level). Sound baffles are a fundamental tool of noise mitigation, the practice of minimizing noise pollution or reverberation.
Ceiling sound baffles are an effective and inexpensive acoustic ceiling treatment that suspends vertically to increase speech intelligibility and sound clarity. Plus, acoustic baffles are an excellent choice for use in large spaces, have limited wall space or need materials out of reach. Since the product installs vertically, both sides have exposure to sound. 
The need for practical, cost-effective, and unobtrusive sound absorption solutions is critical from the safety and sanity points of consideration. We at ALTISPACE have the answer with our range of hanging baffles and fibre acoustic panels. Our wooden acoustic hanging baffles come in a variety of sizes and dimensions.
With an increase in surface area, there is an increase in its ability to reduce reverberation.
Why Are Baffles important? 
Sound baffles absorb sound in a space that requires sound clarity and speech intelligibility. Absorption reduces echo and reverberation within the room in which it is installed. Ceiling treatments are an excellent place to begin! 
Reverberation can frequently give the impression of obnoxious noise in the background. This is primarily due to the room's overall volume, which can result in ear fatigue and decreased concentration for the listener. Regardless of the size of your room, adding sound absorption will make an immediate difference.
Core Features of Acoustic Ceiling Baffles 
Easy installation method – no special tools required

Available in many colours and sizes to help create endless room designs

Custom-made with over 90 standard fabrics to choose from

Prefinished in transparent acoustic fabric, ready to install

High-impact resistance for use in sports areas

A high content of recycled materials
Core Benefits of Acoustic Ceiling Baffles 
Outstanding sound absorption performance – Class A

Absorb sound energy from all faces of the baffle to increase efficiency 

Supplied as standard with the required amount of 2m adjustable suspension kits

Fabric wrapped on all 4 edges with no additional trims required

Manufactured with quick lead time (5 – 10 days)

Used to meet BB93 Regulations
How Do Acoustic Baffles Help Treat Sound Reflections?
Acoustic baffles are free-hanging sound-absorbing products frequently used to treat large rooms like gymnasiums and lobbies acoustically.
These high-performing, sound-absorbing baffles are ideal for improving room acoustics. They are designed to reduce reverberation and reflected sound within a space and are especially favourable for areas with limited wall space. These baffles also allow for airflow and flexible lighting arrangements.
Baffles reside in a space where sound tends to get "stuck" by hanging from the ceiling. This is because there is nothing up there to absorb or diffuse the sound waves. The lingering sound reduces speech intelligibility and makes communication more difficult in general. As communication becomes more complex, voices tend to rise, exacerbating the situation.
Explore the Website of ALTISPACE to Buy Soundproofing Baffles
If you are looking for an exclusive range of sound-proofing baffles to magnify your commercial space, then you are at the right spot, ALTISPACE. We are North America's top-notch and leading acoustic solution providers of commercial spaces like concert halls and music studios. We manufacture high-quality products that offer a range of acoustic and laminate beams and shapes for your cloud space. 
Our customizable product line gives you the flexibility to create your unique design concepts quickly and efficiently, enhancing the aesthetics and performance of your cloud space. Made with our efficient engineering and manufacturing processes, we provide cost-effective products to elevate your design.
Our team has quickly identified the need to enhance the aesthetics and performance of the cloud space for the architectural market. Contact us to elevate your space effectively and promote uniqueness in the workspace. 
Contact our team to include Altispace baffles in your next project.
Back