The Benefits of a Ceiling Acoustic Treatment in Montreal, QC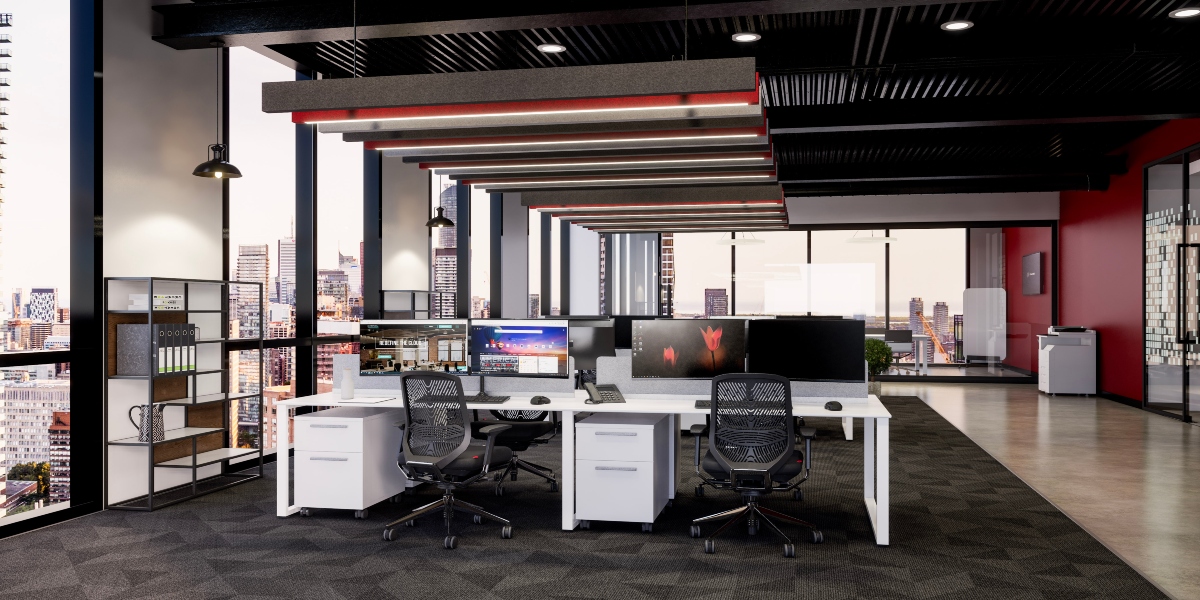 Discover what a ceiling acoustic treatment is, learn about the benefits of ceiling acoustics, and find out who can design a ceiling acoustic system for you.
What is a ceiling acoustic treatment?
Acoustics aren't just something that concert halls must worry about. Good acoustics are integral to any building, especially an office or a business that entertains patrons. However, you can't always choose the exact location where you want your business to be.
Property is expensive to buy, and commercial rentisn't cheap, either. If you find a space big enough which is in the area you want, you must go for it. But what can you do if you find noise carries across your office, so you can hear everybody's conversations at once? Or what if your restaurant is painfully loud, with the cacophony of chatter and cutlery clinking destroying any positive atmosphere?
You can fix all this with a ceiling acoustic treatment. With the precise installation of beams and clouds to dampen sound, you can create the perfect sonic landscape. This can produce many benefits.
The benefits of a well-designed acoustic system
There are numerous benefits to having a professionally designed and installed acoustic ceiling system. Some of these are obvious benefits, and some are less tangible. Some of these benefits include:
Quieter spaces
Unless you manage a nightclub or concert venue, you probably don't want it to be very loud in there. Loud spaces can be headache-inducing. Quiet spaces are much more soothing and welcoming. If you want loud music, you can always put headphones on, but it's much harder to drown out loud ambient noises.
Increased productivity
In many work environments, quieter spaces correlate with improved productivity. In a quiet area, you can focus on your work better. Open-plan spaces can be very conducive to collaboration and increasing team unity. How can you have a quiet open-concept office? With a ceiling acoustic treatment.
Better privacy
Whether you're in an office, restaurant, or some other kind of business, you probably want some degree of privacy. Feeling the energy of people around you and being able to speak with them when you need to is great. But you also don't want people across the room to hear every private conversation you have. With the proper acoustics, you can achieve this.
Great aesthetics
Acoustic ceiling beams and shapes need not be an eyesore. On the contrary, they can complement your business's aesthetics perfectly. You can heighten the atmosphere of your space and include some visually interesting aspects with a professional acoustic treatment.
Contact Altispace to learn more about acoustic ceiling treatments in Montreal
At Altispace, we manufacture high-quality and cost-effective products in Montreal. We have a variety of acoustical and laminate beams and shapes for you to choose from for your ceiling cloud space. Our customizable product line enables you to create your own custom design. We make our products with our expert engineering and manufacturing processes. With our help, you can create the perfect acoustic and aesthetic environment for your unique space. To learn more about acoustical solutions, please contact us via our website, by email, or by calling us at 226-636-5965.
Back