Acoustical Suspended Ceilings Offered at Altispace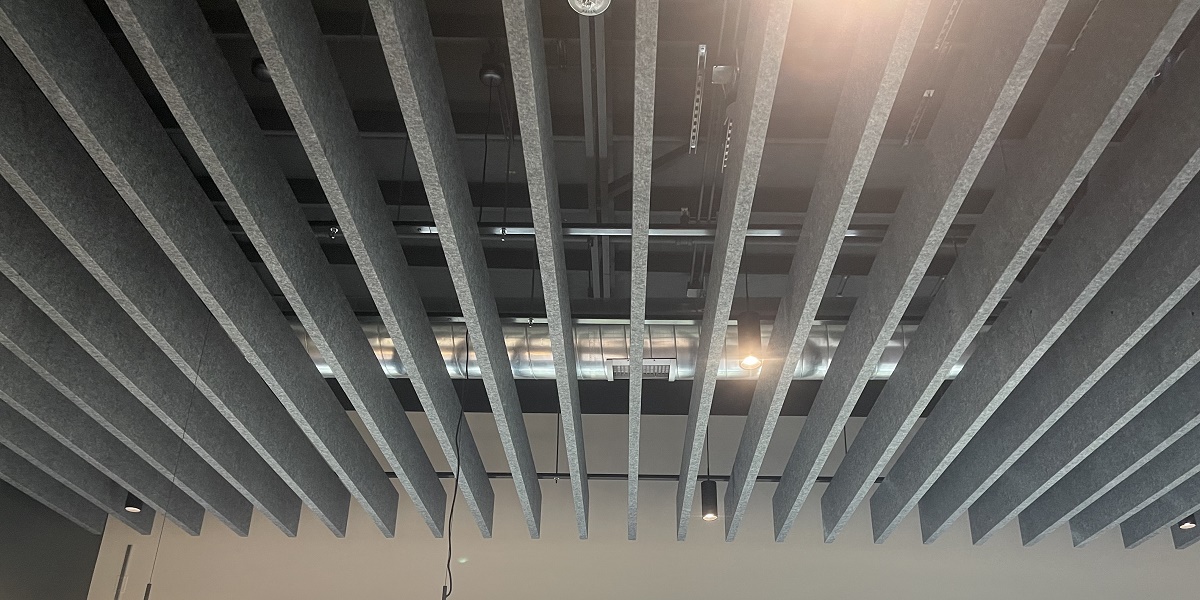 Acoustical suspended ceilings are a popular design choice for offices and workspaces. Installing a suspended ceiling or replacing an existing one can significantly impact your office space's overall appearance and feel. There are endless options for looks that can be achieved with a new suspended ceiling, from texture to colour to lighting and even LED sky panels.
The information below will provide you with all the information you need about acoustical suspended ceilings and their key benefits. 
What is an Acoustical Suspended Ceiling? 
Traditionally, suspended ceilings, also known as 'dropped ceilings' or 'false ceilings,' have been widely used in various building types for years. Individual tiles are placed into the gridwork to form the suspended ceiling after a gridwork frame is installed. 
Suspended acoustic ceilings are secondary ceilings hung below the structural ceiling for room acoustics and aesthetics. Acoustic ceilings have various benefits, the most beneficial being that they hide plumbing, mechanical, and electrical installations from view.  They also provide a clean, smooth finish to a room's ceiling.  
This method of sound absorption could leave rooms feeling uninspired with little visual appeal. However, by incorporating Altispace acoustic blades and shapes, your next design project can build on the blank space of a drop ceiling solution adding flair and additional soundproofing qualities. The installation of these panels also allows for easy access for maintenance!
Suspended Ceilings and Sound Performance 
Suspended acoustic ceilings are a clear winner regarding sound control and design. Here are a few ways that acoustic ceilings can improve the sound in your room:
Diffusion of sound because energy waves bounce evenly, a diffusive sound is required for equal space reverberation.

Absorption of sound: Sound-absorbing material absorbs wave energy and converts some of it to heat.

Reflection of sound when energy waves strike material, some of it bounces back directly, and some reverberate.

Using suspended acoustic ceilings allows for good sound absorption while maintaining interior design.
Major Pros of Installing Suspended Ceilings for Commercial Properties 
Installation of suspended ceilings is the best-suited option for commercial properties, whether it's a Cafeteria or Concert hall. Here are some of the advantages:
Acoustic Performance
Noise is a common problem in offices and can distract employees and reduce productivity. In offices and other commercial spaces, a suspended ceiling can help to reduce noise levels and improve speech intelligibility, making it easier for employees to communicate and concentrate on their work.  The general acoustics of the office space can be significantly improved by using sound-absorbing solutions.
Aesthetic Appeal
A new ceiling can do more than improve the performance of your space; with so many design options now accessible, you can make a bold statement while also improving the appearance of your office. Altispace acoustic blades are available in 84 standard sizes and 16 standard colours; you can create the perfect solution for your project.
Practicality 
Suspended ceilings allow easy access to the ceiling void, essential for many businesses where regular checks are carried out on electrics and other utilities.
Solving Sound Issues with Acoustic Ceilings
There are two potential issues with sound that can be addressed with a new ceiling. If a room is too loud (for example, a call centre or classroom), the sound can be taken out of the space via a sound-absorbing ceiling.
Second, if the sound travels from one area to another (e.g., meeting rooms, break-out areas), a sound-insulating solution is required. Altispace can develop an acoustic suspended ceiling solution for your project, incorporating a variety of our products.
Schedule your visit to Altispace today & Discover an Eye-catching Range of Suspended Ceiling
If you are planning to buy suspended ceilings for your commercial space, then you are at the right spot. Altispace is North America's top-notch Architectural material manufacturer and specializes in Beams, Blades, and acoustic ceiling solutions. Find your solution or speak with a member of our team today!
Back