Ceiling Panel Ideas For Your  Commercial Space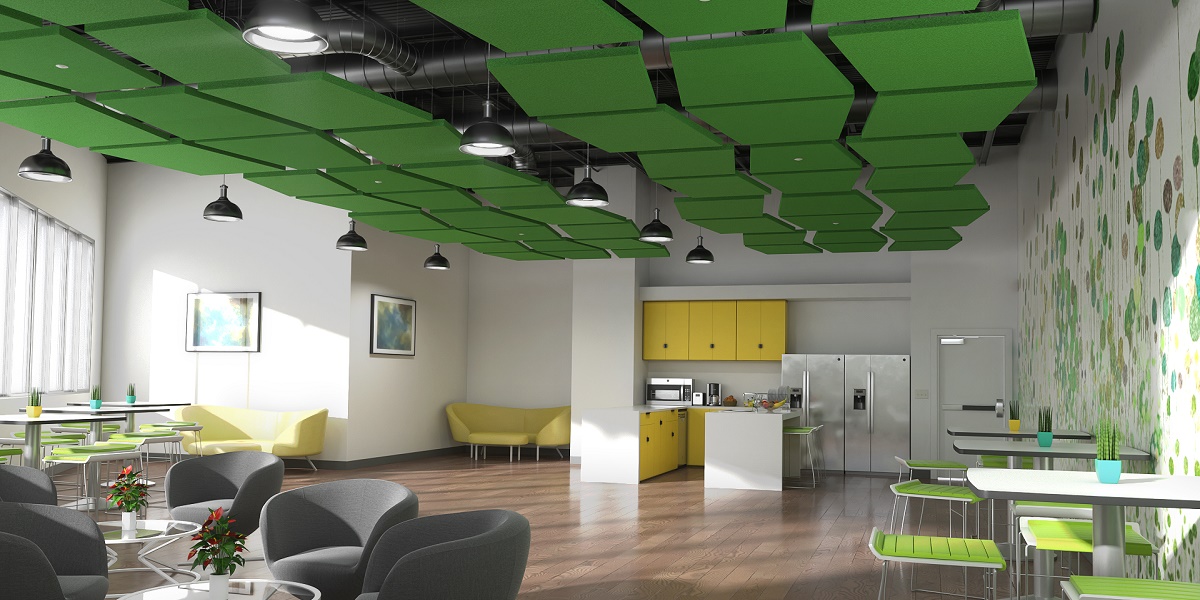 What are Ceiling Panels? 
Ceiling panels are popular for commercial buildings due to their durability, versatility and aesthetic appeal. They are typically made from materials such as wood, metal, PVC, or mineral fiber and can be used to cover existing ceilings or as part of a new construction project. Ceiling panels are easy to install, lightweight and low maintenance, making them an ideal solution for various spaces.
They can be used to improve acoustics, hide unsightly pipes or ductwork, and provide insulation. Some ceiling panels come with a built-in lighting system which can provide additional functionality and aesthetic appeal to the space. They are also available in a wide range of colors, patterns, and designs, which can be used to complement the decor of the space, making them a great option for commercial spaces.
The Benefits of Choosing Ceiling Panels for your Commercial Space
Installing ceiling panels in a commercial space can provide several benefits. Below are some benefits: 
Easy Installation 
Utilizing Altispace shapes as a tile system in your space is beneficial because they are much lighter and require less maintenance than plaster ceilings. Since they are delivered with an easy mounting system, the project takes less time and effort.
Noise Dampening
Ceiling panels can improve the acoustics of a space, reducing noise levels and making it more comfortable for employees and customers. This can be especially beneficial in open-plan offices or large retail spaces.
Insulating properties
Some ceiling panels offer insulation properties that can help keep a space warm in the winter and cool in the summer, resulting in energy savings and cost reduction.
Adds Value to your Office 
Additionally, some ceiling panels have built-in lighting systems, which can provide additional functionality and aesthetic appeal to the space. They can increase the value of your office, not only because of their aesthetic appeal but also because of their capabilities.
Different Types of Ceiling Panels are Available 
Currently, Altispace offers ceiling panels in a variety of shapes and sizes. Working with our team of experts, we can help you find the right product for your project.
Beams
Our beams are a great option for many projects; they come in 72 standard sizes and 21 standard color options and can be customized to match your desired aesthetic. 
Blades
Our acoustic blades come in 84 standard sizes and 16 standard colors. They can be installed in various orientations to increase acoustic performance and add function and dimension to your cloud space.
Shapes
Our shapes come in both laminate and acoustic treatments and are available in 7 standard shapes, over 40 combined sizes, and various colors. 
All of our products are customizable, and we are happy to help facilitate your customization needs.
Core Advantages of Installing Altispace Ceiling Panels
Installation in your commercial space has several advantages: 
Sustainable  – Our products are made with sustainably sourced materials and processes.
Maintenance-friendly  – These tiles often only need an occasional surface dusting to remain clean.
Quick Lead Times – With our single-source manufacturing capability, we produce your projects quickly, ensuring your project is delivered fully on time!
Schedule your consultation with ALTISPACE Today! 
Altispace is a dynamic company composed of a group of forward-thinking individuals focused on perfecting the cloud space. Our teams quickly identified the need to enhance the aesthetics and performance of the cloud space for the architectural market.
At Altispace, we manufacture high-quality products that offer a wide range of acoustic and laminate beams and shapes for your cloud space. Our efficient engineering and manufacturing processes provide our products cost-effectively to the market. We are a dedicated team every step of the way – from estimating, project management, and technical support. Our team is prepared to help you from the first inquiry to your completed installation.
Contact us for more information or to get started with your next project!
Back